A Mediterranean villa with pure and essential lines that dominates from the top of the hill, is furnished and redefined in the internal and external spaces.
Client

Private

Year

1987

Status

Completed

Team

project

Flavio Albanese

Flavio Albanese
founder & partner

Flavio Albanese (1951), is founder and president of ASA studio albanese. He is a self-educated designer, by combining his passion for contemporary art with the practical experience of an artisan-architect. Having come into contact with Carlo Scarpa, he learns from him to avoid an "a priori" approach to design, adapting on a case-by-case basis to the occasions, themes and contexts. He has held courses at the École Polytechinique Fédérale in Lausanne and at the Art Institute in Chicago (1980), at Yale University (1983), at the University of Architecture in Delft (2005), at the University of Florida (2006), at the Fundacion Proa de Buenos Aires (2008) and frequently at the most important Italian universities. He has also held two workshops at the international summer school of the Architecture School in Venice in 2009 and 2010. He was a member of the Confindustria Vicenza committee from 1998 to 2001, the Domus Academy Scientific Committee (2004-2005) and the MIart Committee of Honour (2009 and 2010), director of the Officina del Porto di Palermo (2006-2008), vice president of the Andrea Palladio Architecture Firms International Centre (2011-2015) and president of the Fondazione Teatro Comunale Città di Vicenza (2010-2016). From 2007 to 2010 he was asked to head Domus, the prestigious international architecture, design and contemporary art magazine. Active since 1971, in 1987 he founds with his brother Franco ASA studio albanese. The studio's projects were published by the most most important architecture and design magazines: the Neores project was selected for the Mies van der Rohe Foundation European Union Prize for Contemporary Architecture (2003), and ASA studio albanese took part in Venice's Architecture Biennial in 2004 and 2006. Flavio is an avid reader and bibliophile (his library, which is open to the rest of the firm, contains more than 15.000 volumes) and he is a connoisseur and collector of contemporary art.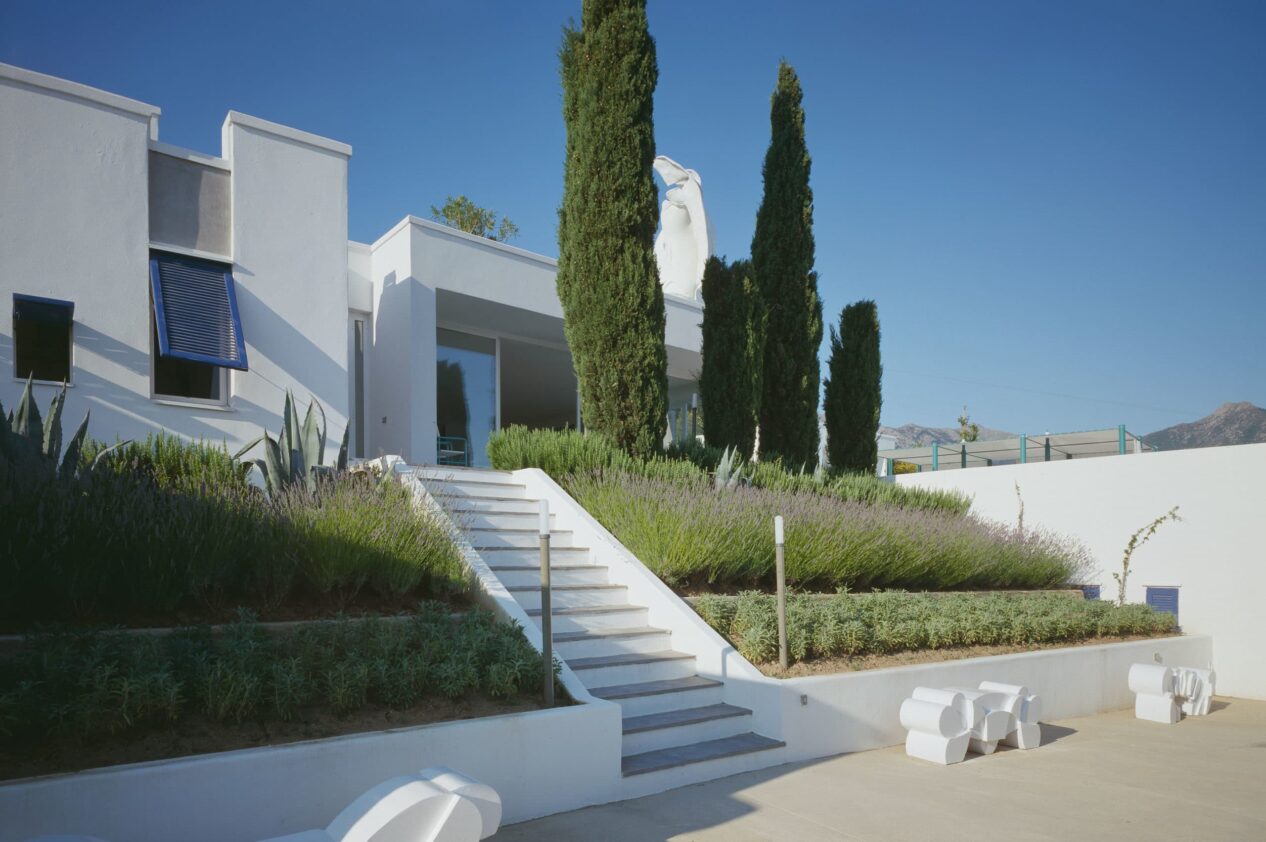 The original housing unit of the villa, located on the hills behind the port of Marciana Marittima, was built in 1966 by the architect Jean Serex, a pupil of Le Corbusier.
The plan, already of considerable size, was formed by cubes and parallelepipeds with a terrace roof, of a "Mediterranean rationalism" character.
The new interventions, realized in two successive stages, consist of the realization of a large living room overlooking the sea, a new swimming pool, an arbour connected to it and new rooms for guests; further changes have affected the organization of the existing living area and the guesthouse, with independent rooms, each one equipped with terrace and kitchenette.