ONGOING
An old industrial site, located in the countryside at the foot of the Vicenza hills, is deconstructed and manipulated to accommodate the new Vermetal headquarters.
Client

Vermetal

Year

2019

Status

In progress

Size

1080 sqm

Team

project

Flavio Albanese

—

Flavio Albanese
founder & partner

Flavio Albanese (1951), is founder and president of ASA studio albanese. He is a self-educated designer, by combining his passion for contemporary art with the practical experience of an artisan-architect. Having come into contact with Carlo Scarpa, he learns from him to avoid an "a priori" approach to design, adapting on a case-by-case basis to the occasions, themes and contexts. He has held courses at the École Polytechinique Fédérale in Lausanne and at the Art Institute in Chicago (1980), at Yale University (1983), at the University of Architecture in Delft (2005), at the University of Florida (2006), at the Fundacion Proa de Buenos Aires (2008) and frequently at the most important Italian universities. He has also held two workshops at the international summer school of the Architecture School in Venice in 2009 and 2010. He was a member of the Confindustria Vicenza committee from 1998 to 2001, the Domus Academy Scientific Committee (2004-2005) and the MIart Committee of Honour (2009 and 2010), director of the Officina del Porto di Palermo (2006-2008), vice president of the Andrea Palladio Architecture Firms International Centre (2011-2015) and president of the Fondazione Teatro Comunale Città di Vicenza (2010-2016). From 2007 to 2010 he was asked to head Domus, the prestigious international architecture, design and contemporary art magazine. Active since 1971, in 1987 he founds with his brother Franco ASA studio albanese. The studio's projects were published by the most most important architecture and design magazines: the Neores project was selected for the Mies van der Rohe Foundation European Union Prize for Contemporary Architecture (2003), and ASA studio albanese took part in Venice's Architecture Biennial in 2004 and 2006. Flavio is an avid reader and bibliophile (his library, which is open to the rest of the firm, contains more than 15.000 volumes) and he is a connoisseur and collector of contemporary art.

Franco Albanese

Franco Albanese
partner, CEO & executive director

Franco Albanese (Vicenza, 1958) has worked in the world of architecture and design since 1976. He graduated from the Architecture School in Venice in 1986 and the year after he founded ASA studio albanese in Vicenza with his brother Flavio. Since then he has been the firm's CEO and Technical Manager, and this role has led him to playing his part in the creation, development and execution of the most important projects. As designer and operations manager he oversaw: the Faculty of Veterinary Medicine at the University of Padua (1997); "Neores", the production site and headquarters of Sinv Spa in Schio, Vicenza, (selected for the Mies van der Rohe Foundation European Union Prize for Contemporary Architecture in 2003); the project for the Town Hall of the Municipality of Grumolo delle Abbadesse, Vicenza (1999); "Morimondo 17", the industrial reconversion of the Sinv spa premises in Milan (2000); the headquarters of Margraf in Chiampo, in the province of Vicenza (2006). He also supervised the "Rocco Forte Verdura Resort" in Sciacca, in Sicily (2005), the expansion of Pantelleria Airport (2006), the new Rinascente in Palermo (2007), the reconversion project of Lindower 22 in Berlin (2011), the Hybrid Tower project in Mestre-Venice (2012), the Fope headquarter extension project in Vicenza (2016). In recent years, he has increasingly concentrated on reconverting urban industrial areas, which has become a key theme of ASA studio albanese's philosophy. In recent years, he has increasingly concentrated on reconverting urban industrial areas, which has become a key theme of ASA studio albanese's philosophy.

project manager

Giuseppe Dal Molin

Giuseppe Dal Molin
project manager

Giuseppe, who prefers to be called Pino, graduated from the Iuav Architecture School in Venice in 1993. A year later, together with Antonio Paolin and Giuseppe Pianezzola, he won a bid to design the new library in Marostica, a project that won the Town of Oderzo architecture award in 1999. He joined ASA studio albanese in 1994 and, notwithstanding a few hiccups, he has remained with us to this day. Pino deals with projects in the field of residential and hotel architecture in particular, and in interior design. For ASA studio albanese he personally worked on the Rocco Forte Verdura Resort in Sciacca, one of the firm's main projects. In 2006 he founded the Corte dei Roda design studio with Giuseppe Pianezzola and other co-workers. One of his favourite novels is "The Simulacra" by Philip K. Dick, and in another life the architect would have liked to have been a farmer.

team

Andrea Garzotto

—

Andrea Garzotto
architect

Andrea is an architect who specialises in image rendering of projects and 3D models and joined ASA studio albanese in 2007. Virtual rendering and 3D models are a key aspect of every level in architectural projects, which is why Andrea is involved in all the firm's most important projects. Besides rendering images, he also works in interior design and architectural design. After spending a year and a half in Porto, where he fell in love with black and white images, he graduated in architecture from the IUAV in Venice in 2006. In December 2012, he opened "Incipit", a collective space and laboratory for the visual arts. Andrea is a freelance photographer, and considers himself to be a precursor to selfies and a wannabee biker. Travelling is an integral part of his life and his photography. He loves the Berghain in Berlin and wines that have bubbles.

Francesco Marangoni

—

Francesco Marangoni
3d models & digital printer supervisor

Francesco Marangoni (born in 1982) graduated in Political Economics from the University of Verona in 2007. After working as a projectionist and usher in the historic Odeon cinema in Vicenza, he happened upon ASA studio albanese in 2006. Here he has helped arrange and catalogue the more than 15,000 volumes contained in the firm's library. He then devoted himself to creating architectural models with a CAD/CAM pantograph and a 3D Zcorp 650 printer. Although he has founded and is involved in the production side of a small web radio station, he insists on listening to Radio3 in the models room on an analogue radio. In his free time, with variable results, he tries to indulge in his passion for reading, music and travel. From the studio library he'd borrow Codex Seraphinianus, while his favourite media is beer.

Giovanni Rossi

—

Alessandro Sparapan

—

Alessandro Sparapan
architect

Alessandro has been working with the studio since 2022, he graduated in architecture from the Iuav in Venice in 2020 and studied for a year at the Belgrade Faculty of Architecture in 2019. Before arriving to Vicenza he worked in Venice for Zuanier Associati and previously in a project by EMGdotART in the Hubei Province in China, in collaboration with the Huazhong University of Science and the Southeast University of Nanjing. Alessandro is passionate about photography, brutalism (but only architectural) and Star Wars. On a desert island he would bring his ever-present pack of Fisherman's Friend candies, and that island would be in Venice.

Blendi Vishkurti

—

Blendi Vishkurti
architect

Blendi started at the studio with an internship in 2018 and was fundamental in completing the installations for the FROM/TO exhibition organized in Berlin as part of the MakeCity 2018 festival. Immediately after graduating from the Iuav in 2021, he fully became one of Asa's architects. Together with his partner in crime Blendi, he obtained an honorable mention at the EUROPAN16 international competition in 2021 with the project "Back to nature" and was a finalist for the Federico Maggia Architecture Award in Biella in 2022 with a site-specific project for ephemeral architecture. As a child he would have liked to be a bricklayer (somehow he remained in the field), he loves and studies bonsai and for this reason he would like to live in the countryside one day. If we asked him who to throw from the tower having to choose between Tolkien and Asimov he would answer like Bartelby the Scrivener: "I would prefer not to."

Filippo Zampese

Filippo Zampese
architect visualizer

Filippo was born in 1984 and became an architect when he graduated in Construction Architecture from the IUAV in 2010, specialising in Digital Architecture for his master's also in Venice in 2010. He joined ASA studio albanese in 2015 and he deals with 3D design and models, prototyping, rendering, and post-production of images and videos. Before arriving in Vicenza, he worked in Maastricht at SatijnPlus Architecten, in Milan for Cino Zucchi Architetti and in Rome for Fuksas Architecture. When he's not designing, Filippo is a musician and composer for the band A New Silent Corporation, with whom he has recorded two albums of post-rock instrumental music (Everything Is Exactly As It Seems, 2009; Odyssea, 2016). He plays electric guitar (for which he has a collection of pedals that he doesn't know how to use) and piano. He loves dogs and hates people who talk on trains, which perhaps explains why he would like to have been an astronaut.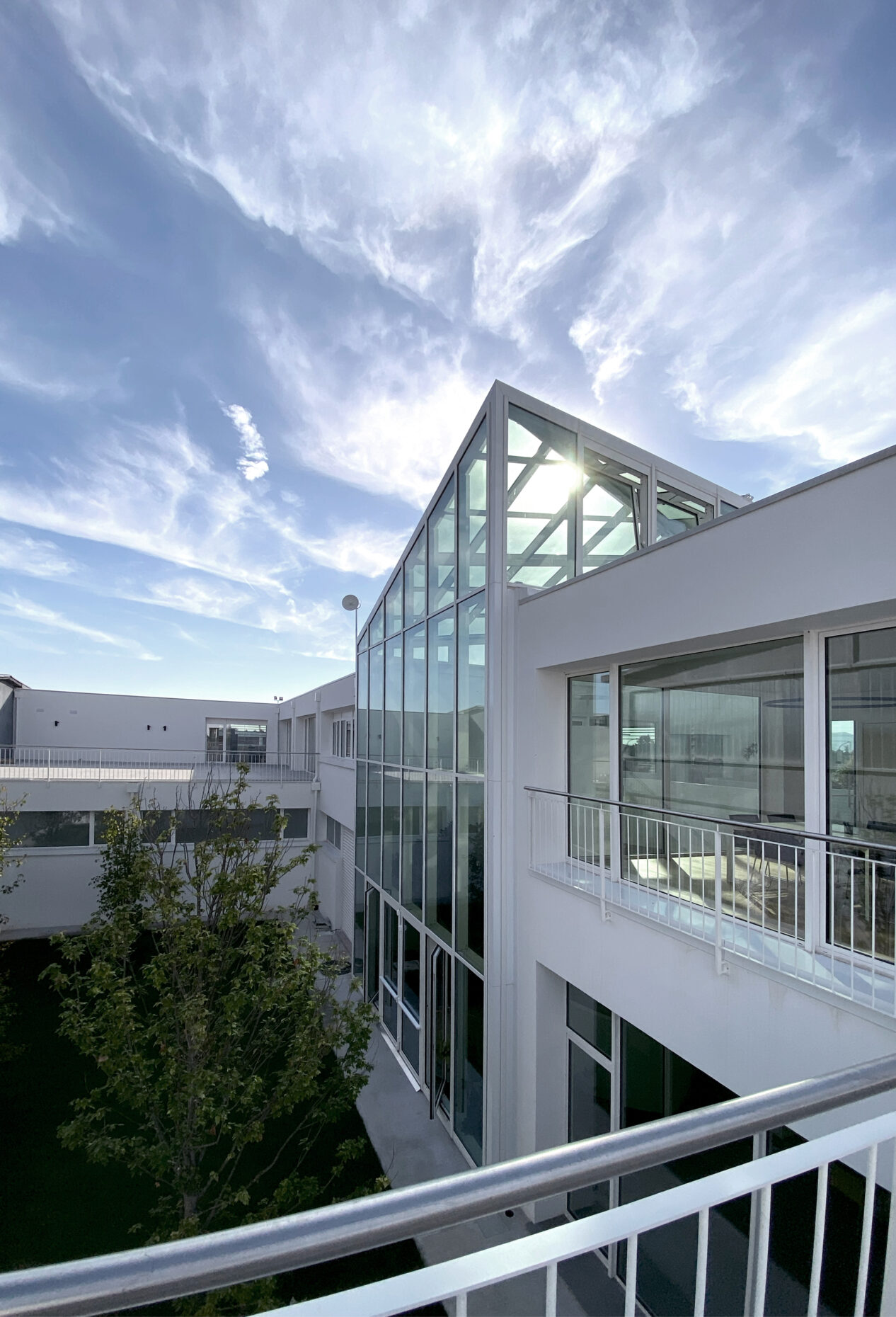 The structure is composed of a south-facing head building for the administration, which northward stretches into the big warehouse.The project focuses on the administrative building, trying to convert, with a few moves, the old building in a contemporary directional space.The main intervention takes place in an ablation: the central portion is removed and the building is divided in two to create a gap that it opens up communication between the lawn in front of the entrance and between the internal tree-lined patio.The removed volume is replaced by a large transparent greenhouse that acts as filter and connection between inside and outside and between west and east areas. The main facade, facing south, is screened with an elegant system of brise-soleil in shiny metal, which refers to the Vermetal varnishes.