The measure and the Italian character, with the distinctive quality of its precious marbles, along with the charm of the American office spaces of the 1950s, become an icon of good taste in Chengdu Taikoo Li, a suggestive corner of sophisticated memory, combined with the Thom Browne's fine tailoring of clothes. What marks the style of this New York brand is the revolution of the tailored suit's traditional proportions in a new contemporary aesthetic, in a new code of sizes and cuts that become "new proportions".


Client

THOM BROWNE NY

Year

2021

Status

Completed

Size

400 sqm

Team

Images credits

THOM BROWN NY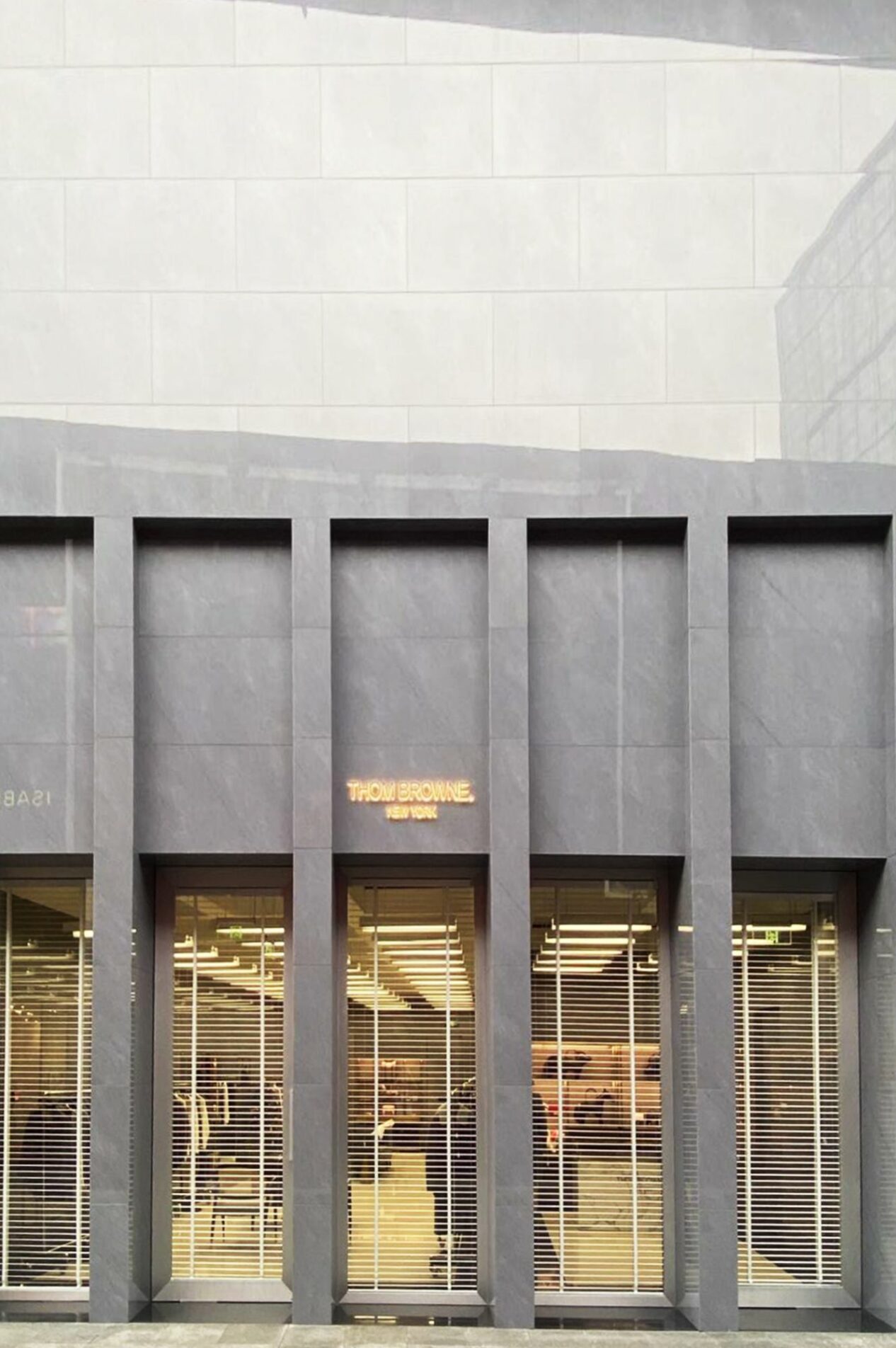 For Thom Browne store in Chengdu Taikoo Li, the project includes a sumptuous double-height external marble façade where, a regular partition marked by very high pillars altering to frames of glass and aluminum, are a tribute to the proportion of Italian architectural rationalism. The large windows are made of aluminum and glass, shielded by a system of metal blinds.
The light design features industrial neon lights arranged to create a precise rhythm of light: original pieces by American and European designers from the 1950s and 1960s were used for the interior furniture. Thom Browne stores' VIP rooms are the most intimate and most distinct spaces of the Thom Browne stores, the rooms reserved for selected customers. Separate and muffled from the other rooms, such as the sacred cells of Greek times or the studios of staterooms, the VIP rooms reveal the deepest part of the Thom Browne experience: a cozy and comfortable space, separated from the mundane flow, where you stop calmly and quietly, taking the right time to experience Thom Browne taste and style.
CHOCOLATE SHOP
Thom Browne Chocolate is the space dedicated to Louis Sherry chocolate packages customized by Thom Browne. The historic Louis Sherry brand, founded in 1881, introduced the French chocolate-making tradition to New York becoming a legendary reference in the cultural narrative of the city. Thom Browne has inaugurated a special collab with the historic New York chocolatier by signing a series of limited editions of Sherry chocolates, available only in selected Thom Browne NY stores. The chocolate stores are spaces developed around the sculptural volume of the marble counter, which is modeled by the traditional counters of haute couture pâtisserie. Around this monumental display space, the storage furniture is inspired by the clothing racks used in Thom Browne stores, just modified to accommodate the tins and the boxes of chocolates.