The measure and the Italian character, with the distinctive quality of its precious marbles, along with the charm of the American office spaces of the 1950s, become an icon of good taste in Chengdu Taikoo Li, a suggestive corner of sophisticated memory, combined with the Thom Browne's fine tailoring of clothes. What marks the style of this New York brand is the revolution of the tailored suit's traditional proportions in a new contemporary aesthetic, in a new code of sizes and cuts that become "new proportions".


Client

THOM BROWNE NY

Year

2021

Status

Completed

Size

400 sqm

Team

project

Flavio Albanese

—

Flavio Albanese
founder & partner

Flavio Albanese (1951), is founder and president of ASA studio albanese. He is a self-educated designer, by combining his passion for contemporary art with the practical experience of an artisan-architect. Having come into contact with Carlo Scarpa, he learns from him to avoid an "a priori" approach to design, adapting on a case-by-case basis to the occasions, themes and contexts. He has held courses at the École Polytechinique Fédérale in Lausanne and at the Art Institute in Chicago (1980), at Yale University (1983), at the University of Architecture in Delft (2005), at the University of Florida (2006), at the Fundacion Proa de Buenos Aires (2008) and frequently at the most important Italian universities. He has also held two workshops at the international summer school of the Architecture School in Venice in 2009 and 2010. He was a member of the Confindustria Vicenza committee from 1998 to 2001, the Domus Academy Scientific Committee (2004-2005) and the MIart Committee of Honour (2009 and 2010), director of the Officina del Porto di Palermo (2006-2008), vice president of the Andrea Palladio Architecture Firms International Centre (2011-2015) and president of the Fondazione Teatro Comunale Città di Vicenza (2010-2016). From 2007 to 2010 he was asked to head Domus, the prestigious international architecture, design and contemporary art magazine. Active since 1971, in 1987 he founds with his brother Franco ASA studio albanese. The studio's projects were published by the most most important architecture and design magazines: the Neores project was selected for the Mies van der Rohe Foundation European Union Prize for Contemporary Architecture (2003), and ASA studio albanese took part in Venice's Architecture Biennial in 2004 and 2006. Flavio is an avid reader and bibliophile (his library, which is open to the rest of the firm, contains more than 15.000 volumes) and he is a connoisseur and collector of contemporary art.

Franco Albanese

Franco Albanese
partner, CEO & executive director

Franco Albanese (Vicenza, 1958) has worked in the world of architecture and design since 1976. He graduated from the Architecture School in Venice in 1986 and the year after he founded ASA studio albanese in Vicenza with his brother Flavio. Since then he has been the firm's CEO and Technical Manager, and this role has led him to playing his part in the creation, development and execution of the most important projects. As designer and operations manager he oversaw: the Faculty of Veterinary Medicine at the University of Padua (1997); "Neores", the production site and headquarters of Sinv Spa in Schio, Vicenza, (selected for the Mies van der Rohe Foundation European Union Prize for Contemporary Architecture in 2003); the project for the Town Hall of the Municipality of Grumolo delle Abbadesse, Vicenza (1999); "Morimondo 17", the industrial reconversion of the Sinv spa premises in Milan (2000); the headquarters of Margraf in Chiampo, in the province of Vicenza (2006). He also supervised the "Rocco Forte Verdura Resort" in Sciacca, in Sicily (2005), the expansion of Pantelleria Airport (2006), the new Rinascente in Palermo (2007), the reconversion project of Lindower 22 in Berlin (2011), the Hybrid Tower project in Mestre-Venice (2012), the Fope headquarter extension project in Vicenza (2016). In recent years, he has increasingly concentrated on reconverting urban industrial areas, which has become a key theme of ASA studio albanese's philosophy. In recent years, he has increasingly concentrated on reconverting urban industrial areas, which has become a key theme of ASA studio albanese's philosophy.

project manager

Anna Tozzi

Anna Tozzi
project manager

Anna joined the firm in 1982 after graduating from art high school. She has made her own contribution to ASA studio albanese's growth and development, helping shape its distinctive style and sensibility. An interior designer with a particular flair for design and colour, Anna has always been interested in interiors, the spatial arrangement of items, and proper and elegant proportion between tones and volumes, working on projects from their concept to their design, coordination with suppliers and relations with clients. Today she is one of the pillars of ASA studio albanese, and the point of reference for the most important interior design choices. Over time her colour palette has concentrated on soft shades, and the colour she undoubtedly uses most is beige, in all its tones. Anna loves nature, animals, baggy, warm cardigans and monographs by Liagre, both for pleasure and necessity.

team

Francesco Marangoni

—

Francesco Marangoni
3d models & digital printer supervisor

Francesco Marangoni (born in 1982) graduated in Political Economics from the University of Verona in 2007. After working as a projectionist and usher in the historic Odeon cinema in Vicenza, he happened upon ASA studio albanese in 2006. Here he has helped arrange and catalogue the more than 15,000 volumes contained in the firm's library. He then devoted himself to creating architectural models with a CAD/CAM pantograph and a 3D Zcorp 650 printer. Although he has founded and is involved in the production side of a small web radio station, he insists on listening to Radio3 in the models room on an analogue radio. In his free time, with variable results, he tries to indulge in his passion for reading, music and travel. From the studio library he'd borrow Codex Seraphinianus, while his favourite media is beer.

Filippo Zampese

Filippo Zampese
architect visualizer

Filippo was born in 1984 and became an architect when he graduated in Construction Architecture from the IUAV in 2010, specialising in Digital Architecture for his master's also in Venice in 2010. He joined ASA studio albanese in 2015 and he deals with 3D design and models, prototyping, rendering, and post-production of images and videos. Before arriving in Vicenza, he worked in Maastricht at SatijnPlus Architecten, in Milan for Cino Zucchi Architetti and in Rome for Fuksas Architecture. When he's not designing, Filippo is a musician and composer for the band A New Silent Corporation, with whom he has recorded two albums of post-rock instrumental music (Everything Is Exactly As It Seems, 2009; Odyssea, 2016). He plays electric guitar (for which he has a collection of pedals that he doesn't know how to use) and piano. He loves dogs and hates people who talk on trains, which perhaps explains why he would like to have been an astronaut.

Images credits

THOM BROWN NY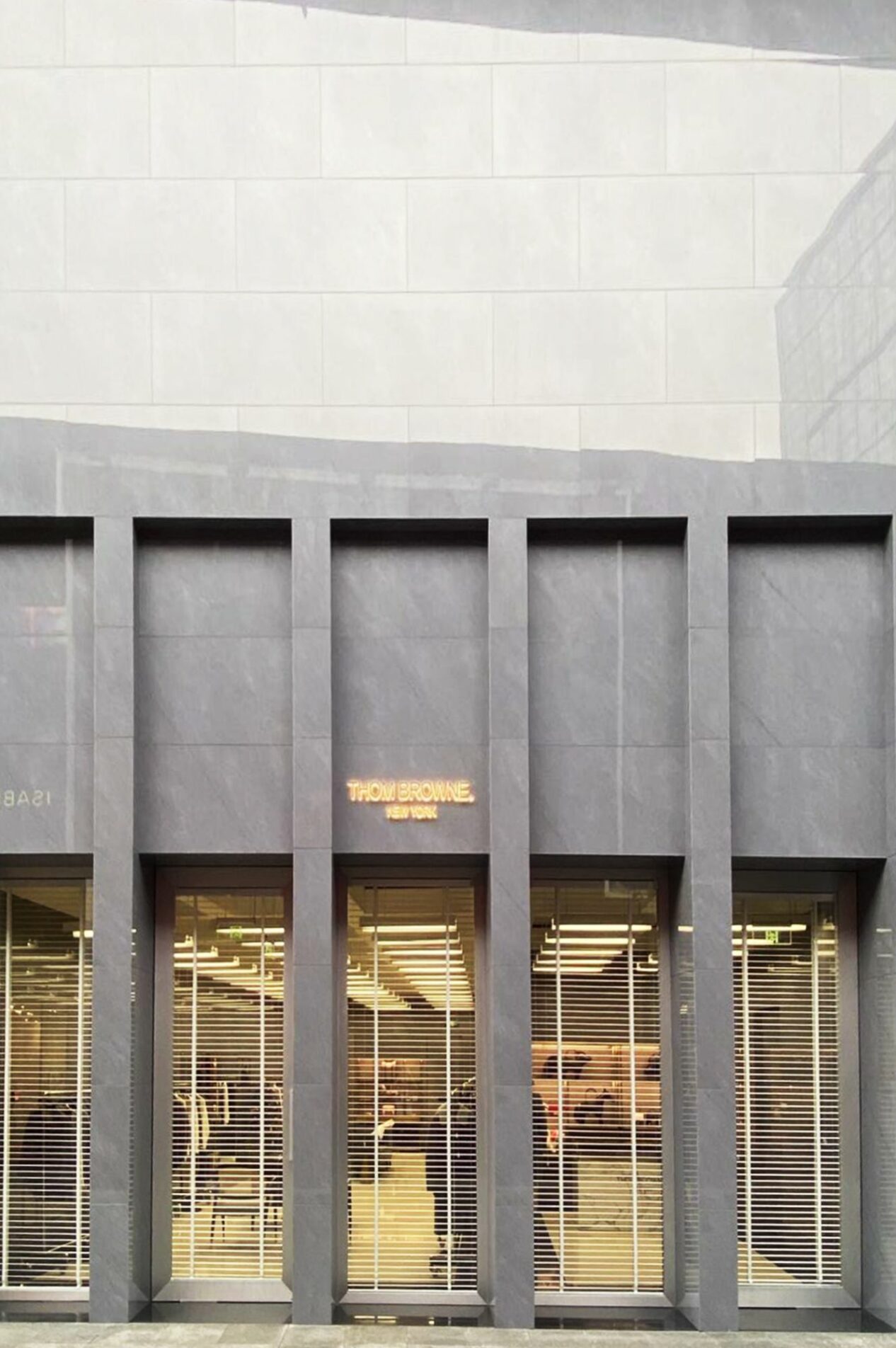 For Thom Browne store in Chengdu Taikoo Li, the project includes a sumptuous double-height external marble façade where, a regular partition marked by very high pillars altering to frames of glass and aluminum, are a tribute to the proportion of Italian architectural rationalism. The large windows are made of aluminum and glass, shielded by a system of metal blinds.
The light design features industrial neon lights arranged to create a precise rhythm of light: original pieces by American and European designers from the 1950s and 1960s were used for the interior furniture. Thom Browne stores' VIP rooms are the most intimate and most distinct spaces of the Thom Browne stores, the rooms reserved for selected customers. Separate and muffled from the other rooms, such as the sacred cells of Greek times or the studios of staterooms, the VIP rooms reveal the deepest part of the Thom Browne experience: a cozy and comfortable space, separated from the mundane flow, where you stop calmly and quietly, taking the right time to experience Thom Browne taste and style.
CHOCOLATE SHOP
Thom Browne Chocolate is the space dedicated to Louis Sherry chocolate packages customized by Thom Browne. The historic Louis Sherry brand, founded in 1881, introduced the French chocolate-making tradition to New York becoming a legendary reference in the cultural narrative of the city. Thom Browne has inaugurated a special collab with the historic New York chocolatier by signing a series of limited editions of Sherry chocolates, available only in selected Thom Browne NY stores. The chocolate stores are spaces developed around the sculptural volume of the marble counter, which is modeled by the traditional counters of haute couture pâtisserie. Around this monumental display space, the storage furniture is inspired by the clothing racks used in Thom Browne stores, just modified to accommodate the tins and the boxes of chocolates.