Pavilion 8, Pavilion 7 and the multistorey car park of the Vicenza Convention Centre were to be upgraded to make them a public space that would be used intensively and open to the city 365 days a year. The new Pavilion 8 is a single-storey structure with an operational surface area of more than 15,000 m2 and that is capable of adapting to various uses, not having a specific character per se. Pavilion 7 on the other hand is an elegant and minimalist hall.

Client

Immobiliare Fiera di Vicenza

Year

2010

Status

Completed

Size

14500 sqm

Team

director of project

Flavio Albanese

—

Flavio Albanese
founder & partner

Flavio Albanese (1951), is founder and president of ASA studio albanese. He is a self-educated designer, by combining his passion for contemporary art with the practical experience of an artisan-architect. Having come into contact with Carlo Scarpa, he learns from him to avoid an "a priori" approach to design, adapting on a case-by-case basis to the occasions, themes and contexts. He has held courses at the École Polytechinique Fédérale in Lausanne and at the Art Institute in Chicago (1980), at Yale University (1983), at the University of Architecture in Delft (2005), at the University of Florida (2006), at the Fundacion Proa de Buenos Aires (2008) and frequently at the most important Italian universities. He has also held two workshops at the international summer school of the Architecture School in Venice in 2009 and 2010. He was a member of the Confindustria Vicenza committee from 1998 to 2001, the Domus Academy Scientific Committee (2004-2005) and the MIart Committee of Honour (2009 and 2010), director of the Officina del Porto di Palermo (2006-2008), vice president of the Andrea Palladio Architecture Firms International Centre (2011-2015) and president of the Fondazione Teatro Comunale Città di Vicenza (2010-2016). From 2007 to 2010 he was asked to head Domus, the prestigious international architecture, design and contemporary art magazine. Active since 1971, in 1987 he founds with his brother Franco ASA studio albanese. The studio's projects were published by the most most important architecture and design magazines: the Neores project was selected for the Mies van der Rohe Foundation European Union Prize for Contemporary Architecture (2003), and ASA studio albanese took part in Venice's Architecture Biennial in 2004 and 2006. Flavio is an avid reader and bibliophile (his library, which is open to the rest of the firm, contains more than 15.000 volumes) and he is a connoisseur and collector of contemporary art.

Franco Albanese

Franco Albanese
partner, CEO & executive director

Franco Albanese (Vicenza, 1958) has worked in the world of architecture and design since 1976. He graduated from the Architecture School in Venice in 1986 and the year after he founded ASA studio albanese in Vicenza with his brother Flavio. Since then he has been the firm's CEO and Technical Manager, and this role has led him to playing his part in the creation, development and execution of the most important projects. As designer and operations manager he oversaw: the Faculty of Veterinary Medicine at the University of Padua (1997); "Neores", the production site and headquarters of Sinv Spa in Schio, Vicenza, (selected for the Mies van der Rohe Foundation European Union Prize for Contemporary Architecture in 2003); the project for the Town Hall of the Municipality of Grumolo delle Abbadesse, Vicenza (1999); "Morimondo 17", the industrial reconversion of the Sinv spa premises in Milan (2000); the headquarters of Margraf in Chiampo, in the province of Vicenza (2006). He also supervised the "Rocco Forte Verdura Resort" in Sciacca, in Sicily (2005), the expansion of Pantelleria Airport (2006), the new Rinascente in Palermo (2007), the reconversion project of Lindower 22 in Berlin (2011), the Hybrid Tower project in Mestre-Venice (2012), the Fope headquarter extension project in Vicenza (2016). In recent years, he has increasingly concentrated on reconverting urban industrial areas, which has become a key theme of ASA studio albanese's philosophy. In recent years, he has increasingly concentrated on reconverting urban industrial areas, which has become a key theme of ASA studio albanese's philosophy.

project administrator

Piero Corradin

Piero Corradin
partner, head of projects

Piero Corradin graduated from the Iuav Architecture School in Venice in 2002 and in the same year began working as an architect in ASA studio albanese. Some of the most important projects Piero has worked on include the urban redevelopment of a quarter in Beijing to an OMA masterplan (2007), the new branch of Banca Popolare in Marostica (2006), the new headquarters of AFV Acciaierie Beltrame in Vicenza (2007), the bid for the new Exhibition Centre in Vicenza (2008), and the international bid "Recupero della cava di Mursia" on the island of Pantelleria (2010). In 2012 he took part in the Hybrid Tower project in Mestre (Venice), in 2016 in the Fope headquarter extension project (Vicenza) and in the Agrologic agro-food hub in Monselice. In 2008 he was tutor for PreVisioni, the international workshop on the future masterplan for Vicenza and at the 2009-2010 summer workshops of the Iuav Architecture School in Venice. Since 2014 Piero has been ASA studio albanese's Head of Projects and from 2020 he becomes partner of the studio

team

Francesca Casara

—

Francesca Casara
architect

Francesca graduated from the Iuav in Venice and has been an architect since 2007. She joined ASA studio albanese in 2012 and has used her versatile talent on many projects, dealing with different-scale elements of projects (from masterplans to interior design), and in the different project phases, from the concept stage to the final implementation phase on site. Some of the projects she has worked on include the new Exhibition Centre in Vicenza, the Colli Berici Golf Club and the Hybrid Tower in Mestre. Before joining ASA studio albanese, from 2007 to 2011 she worked for the G&G architecture firm based in Padua, while working independently on numerous other projects. She loves travel, nature and animals. She has won many ski competitions and is a riding instructor, a sport she practises at a competitive level, specialising in show jumping. Francesca likes bubbles, but only in her wine, and her favourite pattern is animal prints.

Andrea Garzotto

—

Andrea Garzotto
architect

Andrea is an architect who specialises in image rendering of projects and 3D models and joined ASA studio albanese in 2007. Virtual rendering and 3D models are a key aspect of every level in architectural projects, which is why Andrea is involved in all the firm's most important projects. Besides rendering images, he also works in interior design and architectural design. After spending a year and a half in Porto, where he fell in love with black and white images, he graduated in architecture from the IUAV in Venice in 2006. In December 2012, he opened "Incipit", a collective space and laboratory for the visual arts. Andrea is a freelance photographer, and considers himself to be a precursor to selfies and a wannabee biker. Travelling is an integral part of his life and his photography. He loves the Berghain in Berlin and wines that have bubbles.

Giovanni Schiavotto —

Giacomo Tomasini

Giacomo Tomasini
architect

Partners

Temporary consortium: Maltauro spa / group representative, Gemmo spa, Studio Altieri spa / design group coordinator, ASA studio albanese srl/ architectural project, Steam srl, One works spa, Giulio Altieri architetto, Svei spa

Images credits

Alberto Sinigaglia Maxwell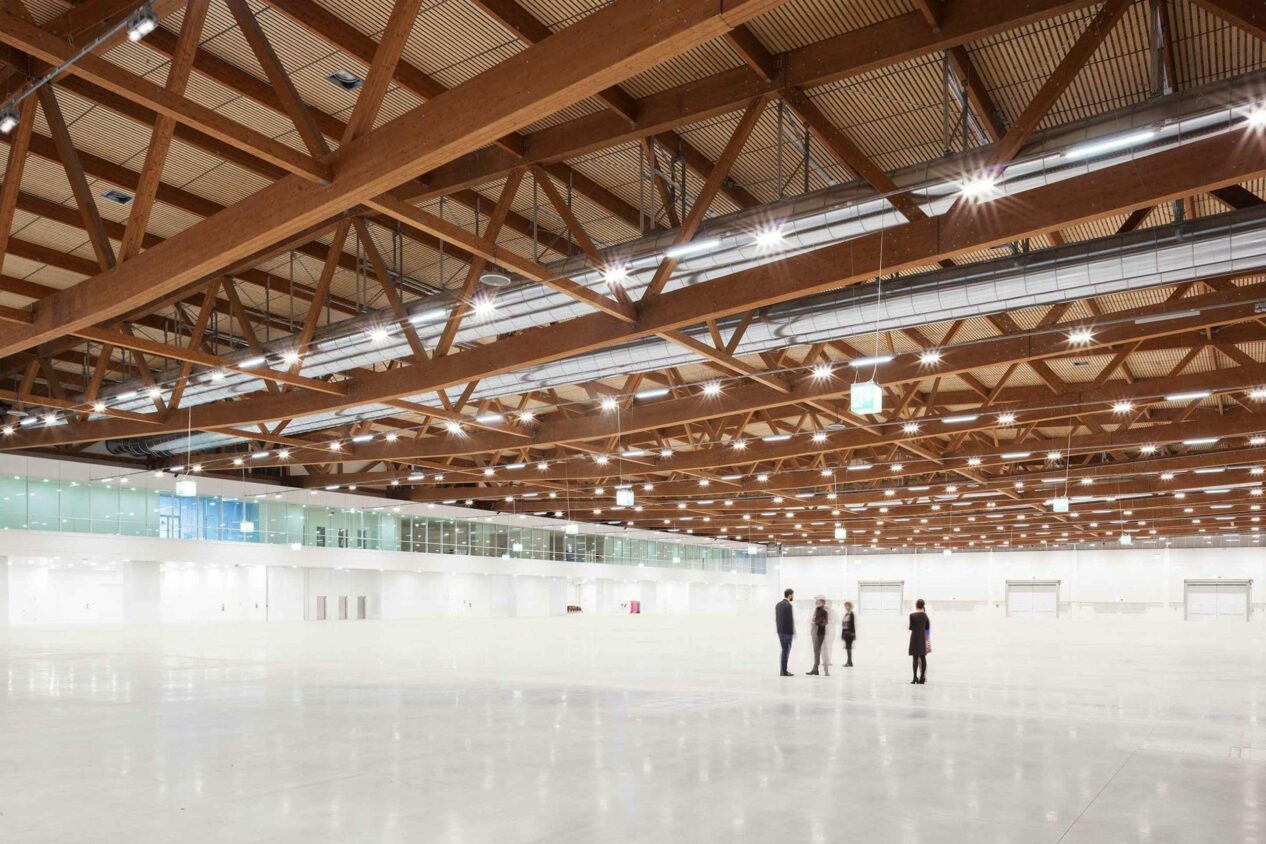 The project for the new Vicenza Exhibition Centre is based on the idea of reintegrating the trade fair system into the urban dynamics, envisaging it as a space that is open to the city 365 days a year and that can abolish the distinction between the suburbs and the city proper.
The expansion of the exhibition centre mainly involved constructing Pavilion 8, an imposing single-storey space 150 metres by 100 metres, with a single-span surface area of over 15,000 m2 with no columns or internal structures and ranging from a minimum of 10 metres to a maximum of 18 metres tall.  This eclectic and versatile hall is the largest in Europe with these characteristics. It's a smooth, neutral, versatile area which is why it is particularly suited to being transformed into a space that can host any kind of contemporary event.
The upgrading project also included Pavilion 7, which functions as a hall, lounge and office space, and a multistorey car park for 800 cars.