"The distinguishing feature of the work involved is its original design concepts […] locating the entire product range below ground level, building underground to all intents and purposes in other words, has meant rethinking the traditional idea of factories in a sense, developing it in a spacious cavity, concealed and non-invasive in terms of how the landscape is perceived" P. Polano, Casabella 699


Client

Sinv Spa

Year

1999

Status

Completed

Size

24.000 sqm

Team

project

Flavio Albanese

—

Flavio Albanese
founder & partner

Flavio Albanese (1951), is founder and president of ASA studio albanese. He is a self-educated designer, by combining his passion for contemporary art with the practical experience of an artisan-architect. Having come into contact with Carlo Scarpa, he learns from him to avoid an "a priori" approach to design, adapting on a case-by-case basis to the occasions, themes and contexts. He has held courses at the École Polytechinique Fédérale in Lausanne and at the Art Institute in Chicago (1980), at Yale University (1983), at the University of Architecture in Delft (2005), at the University of Florida (2006), at the Fundacion Proa de Buenos Aires (2008) and frequently at the most important Italian universities. He has also held two workshops at the international summer school of the Architecture School in Venice in 2009 and 2010. He was a member of the Confindustria Vicenza committee from 1998 to 2001, the Domus Academy Scientific Committee (2004-2005) and the MIart Committee of Honour (2009 and 2010), director of the Officina del Porto di Palermo (2006-2008), vice president of the Andrea Palladio Architecture Firms International Centre (2011-2015) and president of the Fondazione Teatro Comunale Città di Vicenza (2010-2016). From 2007 to 2010 he was asked to head Domus, the prestigious international architecture, design and contemporary art magazine. Active since 1971, in 1987 he founds with his brother Franco ASA studio albanese. The studio's projects were published by the most most important architecture and design magazines: the Neores project was selected for the Mies van der Rohe Foundation European Union Prize for Contemporary Architecture (2003), and ASA studio albanese took part in Venice's Architecture Biennial in 2004 and 2006. Flavio is an avid reader and bibliophile (his library, which is open to the rest of the firm, contains more than 15.000 volumes) and he is a connoisseur and collector of contemporary art.

Franco Albanese

Franco Albanese
partner, CEO & executive director

Franco Albanese (Vicenza, 1958) has worked in the world of architecture and design since 1976. He graduated from the Architecture School in Venice in 1986 and the year after he founded ASA studio albanese in Vicenza with his brother Flavio. Since then he has been the firm's CEO and Technical Manager, and this role has led him to playing his part in the creation, development and execution of the most important projects. As designer and operations manager he oversaw: the Faculty of Veterinary Medicine at the University of Padua (1997); "Neores", the production site and headquarters of Sinv Spa in Schio, Vicenza, (selected for the Mies van der Rohe Foundation European Union Prize for Contemporary Architecture in 2003); the project for the Town Hall of the Municipality of Grumolo delle Abbadesse, Vicenza (1999); "Morimondo 17", the industrial reconversion of the Sinv spa premises in Milan (2000); the headquarters of Margraf in Chiampo, in the province of Vicenza (2006). He also supervised the "Rocco Forte Verdura Resort" in Sciacca, in Sicily (2005), the expansion of Pantelleria Airport (2006), the new Rinascente in Palermo (2007), the reconversion project of Lindower 22 in Berlin (2011), the Hybrid Tower project in Mestre-Venice (2012), the Fope headquarter extension project in Vicenza (2016). In recent years, he has increasingly concentrated on reconverting urban industrial areas, which has become a key theme of ASA studio albanese's philosophy. In recent years, he has increasingly concentrated on reconverting urban industrial areas, which has become a key theme of ASA studio albanese's philosophy.

project manager

Antonio Zambonin

team

Stefano Andrighetto —

Nicola Busato —

Stefano Faoro —

Giovanni Rizzo

—

Luca Toppano

Images credits

Andrea Garzotto, Fulvio Orsenigo

Video credits

Muvistudio

Website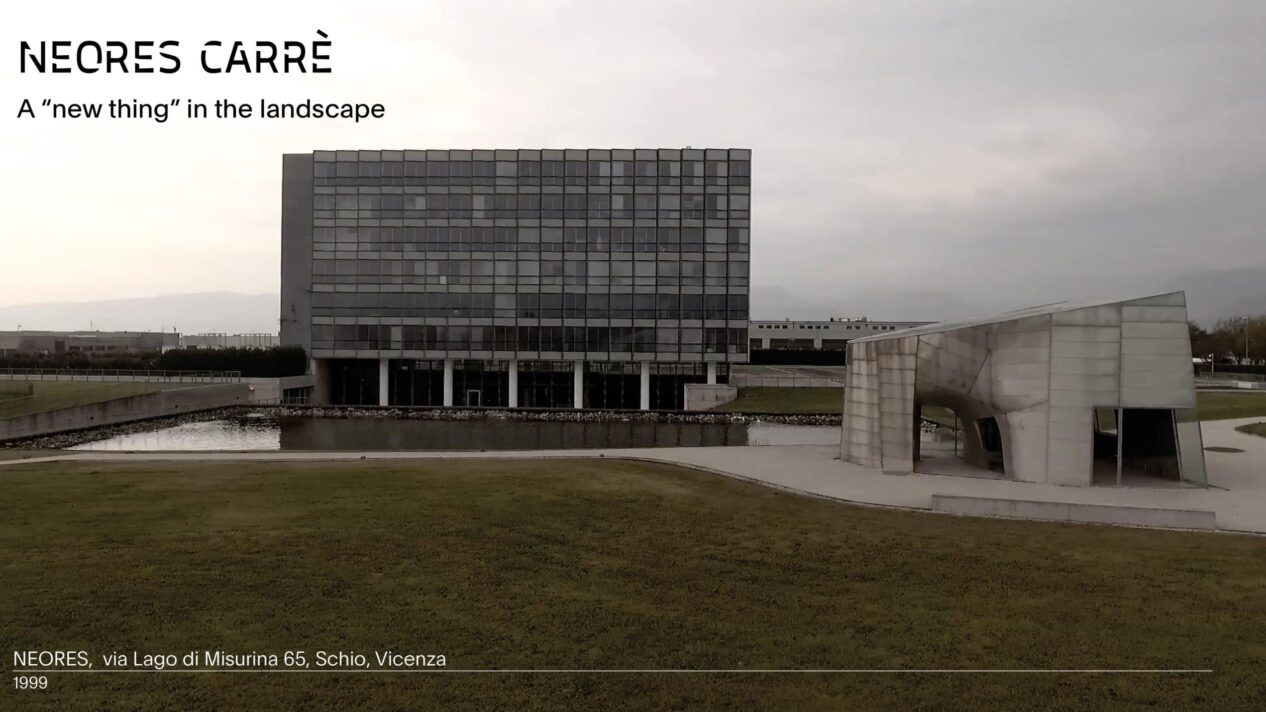 Neores is a "non-factory factory" in the industrial area of Schio, Vicenza, in a part of the Veneto region with a large number of factories, but one that – to the eye – is closely connected with the foothills of the Alps, which can be seen in all their silent majesty all around. The Neores project is an original hybrid of a landmark and an underground building, that features innovative concepts compared to a more traditional industrial site, with special attention paid to how the local land is used, its relationship with the landscape, and the comfort of human resources.
A small, quiet revolution against the brutalist architecture of north-east Italy's more typical production sites.Consequently, Neores is a one-of-a-kind factory whose adoption of the very latest technology is matched with respect for individuals, and a humanistic idea of work prevails over the supremacy of goods, while at the same time the centrality of humans and their proper relationship with the environment are re-evaluated.   But how could we turn this idea and these concepts into real architecture? While working on later stages, ASA studio albanese hit on the solution to the problem: take everything that is considered to be of less value, such as goods and machinery, underground, leaving the privilege of the landscape to human beings.
So Neores was born: literally, a "new thing", a building that grew upside down. The building descends up to 24 metres underground with a warehouse of over 20,000 m2, while above the surface there are 3,600 m2 of offices. Furthermore, taking a Mies van der Rohe-like step back from the road, a large natural park area opens up.
Neores is a diaphanous, transparent seven-level parallelepiped that watches over the countryside and communicates with the outlines of the mountains in the background."
Service architecture" that is not ashamed to be contemporary, lit up at night by a covering of programmable LED lights in up to 264,000 different shades.
Neores exemplifies a new kind of manufacturing construct, that can symbolically coexist in harmony with human beings, with the surrounding habitat, and with the local area.