The city of Mestre has a very unusual urban history: it did not grow in a linear fashion but is the result of a summation of isolated, disjointed and non-consecutive architectural episodes. Mestre is an episodic city: its logic is one of exception, and discontinuity is part of its heart and soul.
Client

Cervet srl General Contractor

Year

2012

Status

Completed

Size

4000 sqm

Team

project

Flavio Albanese

—

Flavio Albanese
founder & partner

Flavio Albanese (1951), is founder and president of ASA studio albanese. He is a self-educated designer, by combining his passion for contemporary art with the practical experience of an artisan-architect. Having come into contact with Carlo Scarpa, he learns from him to avoid an "a priori" approach to design, adapting on a case-by-case basis to the occasions, themes and contexts. He has held courses at the École Polytechinique Fédérale in Lausanne and at the Art Institute in Chicago (1980), at Yale University (1983), at the University of Architecture in Delft (2005), at the University of Florida (2006), at the Fundacion Proa de Buenos Aires (2008) and frequently at the most important Italian universities. He has also held two workshops at the international summer school of the Architecture School in Venice in 2009 and 2010. He was a member of the Confindustria Vicenza committee from 1998 to 2001, the Domus Academy Scientific Committee (2004-2005) and the MIart Committee of Honour (2009 and 2010), director of the Officina del Porto di Palermo (2006-2008), vice president of the Andrea Palladio Architecture Firms International Centre (2011-2015) and president of the Fondazione Teatro Comunale Città di Vicenza (2010-2016). From 2007 to 2010 he was asked to head Domus, the prestigious international architecture, design and contemporary art magazine. Active since 1971, in 1987 he founds with his brother Franco ASA studio albanese. The studio's projects were published by the most most important architecture and design magazines: the Neores project was selected for the Mies van der Rohe Foundation European Union Prize for Contemporary Architecture (2003), and ASA studio albanese took part in Venice's Architecture Biennial in 2004 and 2006. Flavio is an avid reader and bibliophile (his library, which is open to the rest of the firm, contains more than 15.000 volumes) and he is a connoisseur and collector of contemporary art.

Franco Albanese

—

Franco Albanese
partner, CEO & executive director

Franco Albanese (Vicenza, 1958) has worked in the world of architecture and design since 1976. He graduated from the Architecture School in Venice in 1986 and the year after he founded ASA studio albanese in Vicenza with his brother Flavio. Since then he has been the firm's CEO and Technical Manager, and this role has led him to playing his part in the creation, development and execution of the most important projects. As designer and operations manager he oversaw: the Faculty of Veterinary Medicine at the University of Padua (1997); "Neores", the production site and headquarters of Sinv Spa in Schio, Vicenza, (selected for the Mies van der Rohe Foundation European Union Prize for Contemporary Architecture in 2003); the project for the Town Hall of the Municipality of Grumolo delle Abbadesse, Vicenza (1999); "Morimondo 17", the industrial reconversion of the Sinv spa premises in Milan (2000); the headquarters of Margraf in Chiampo, in the province of Vicenza (2006). He also supervised the "Rocco Forte Verdura Resort" in Sciacca, in Sicily (2005), the expansion of Pantelleria Airport (2006), the new Rinascente in Palermo (2007), the reconversion project of Lindower 22 in Berlin (2011), the Hybrid Tower project in Mestre-Venice (2012), the Fope headquarter extension project in Vicenza (2016). In recent years, he has increasingly concentrated on reconverting urban industrial areas, which has become a key theme of ASA studio albanese's philosophy. In recent years, he has increasingly concentrated on reconverting urban industrial areas, which has become a key theme of ASA studio albanese's philosophy.

Piero Corradin

Piero Corradin
partner, head of projects

Piero Corradin has been a partner of the firm since 2020 and head of project since 2014. He graduated from the Iuav Architecture School in Venice in 2002 and in the same year began working as an architect in ASA studio albanese. Some of the most important projects Piero has worked on include the urban redevelopment of a quarter in Beijing to an OMA masterplan (2007), the new branch of Banca Popolare in Marostica (2006), the new headquarters of AFV Acciaierie Beltrame in Vicenza (2007), the bid for the new Exhibition Centre in Vicenza (2008), and the international bid "Recupero della cava di Mursia" on the island of Pantelleria (2010). In 2012 he took part in the Hybrid Tower project in Mestre (Venice), in 2016 in the Fope headquarter extension project (Vicenza) and in the Agrologic agro-food hub in Monselice. In 2008 he was tutor for PreVisioni, the international workshop on the future masterplan for Vicenza and at the 2009-2010 summer workshops of the Iuav Architecture School in Venice.

project manager

Giacomo Tomasini

Giacomo Tomasini
architect

team

Lisa Bisarello

—

Lisa Bisarello
interior designer

Lisa joined Asa studio albanese in 2001 as personal assistant to Flavio Albanese, before becoming an interior designer and working on projects ranging from furniture design to patterns for fabrics, as well as on interior design projects. She received her High School Diploma in 1994 at the Canova Techical Institute for Surveyors in Vicenza, and before joining Asa studio albanese, she worked as an interior designer for a building firm from 1994 to 1996, and from 1998 to 2000 at the prestigious Fontana Arredamenti showroom as a sales assistant and interior designer. Personality-wise, Lisa is sensitive, meticulous, strong-willed and down-to-earth. She prefers still water, and her favourite proverb is "Where there's a will, there's a way".

Anna Concato —

Francesca Casara

—

Francesca Casara
architect

Francesca graduated from the Iuav in Venice and has been an architect since 2007. She joined ASA studio albanese in 2012 and has used her versatile talent on many projects, dealing with different-scale elements of projects (from masterplans to interior design), and in the different project phases, from the concept stage to the final implementation phase on site. Some of the projects she has worked on include the new Exhibition Centre in Vicenza, the Colli Berici Golf Club and the Hybrid Tower in Mestre. Before joining ASA studio albanese, from 2007 to 2011 she worked for the G&G architecture firm based in Padua, while working independently on numerous other projects. She loves travel, nature and animals. She has won many ski competitions and is a riding instructor, a sport she practises at a competitive level, specialising in show jumping. Francesca likes bubbles, but only in her wine, and her favourite pattern is animal prints.

Nicola Caputo

—

Nicola Caputo
architect

final and working stages of projects, coordinating operations on site for the professionals who physically create the project and working with clients on their choices to ensure that the firm's vision for the project is in keeping with the clients' wishes. For the firm Nicola has been involved in projects that include the Rocco Forte Verdura Resort in Sciacca, the Hybrid Tower in Mestre, the Villa Coeur Jolie in Cap d'Antibes, as well as many other projects. Before joining ASA studio albanese, he worked at Studio Altieri in Thiene, in the contract field in workplace interiors with Adotta, and again as designer with Studio Gabbiani & associati, tackling projects of different sizes, including hospitals, shopping malls, infrastructure and restoration work. He lives in Vicenza with his wife and son. He's a keen pre-master swimmer and when he isn't diving into the firm's design projects, he's diving into swimming pools. One of his favourite books is "The Art of War" by Sun Tzu. One thing he couldn't live without is a pair of well-crafted shoes.

Andrea Garzotto

—

Andrea Garzotto
architect

Andrea is an architect who specialises in image rendering of projects and 3D models and joined ASA studio albanese in 2007. Virtual rendering and 3D models are a key aspect of every level in architectural projects, which is why Andrea is involved in all the firm's most important projects. Besides rendering images, he also works in interior design and architectural design. After spending a year and a half in Porto, where he fell in love with black and white images, he graduated in architecture from the IUAV in Venice in 2006. In December 2012, he opened "Incipit", a collective space and laboratory for the visual arts. Andrea is a freelance photographer, and considers himself to be a precursor to selfies and a wannabee biker. Travelling is an integral part of his life and his photography. He loves the Berghain in Berlin and wines that have bubbles.

Francesco Marangoni

—

Francesco Marangoni
3d models & digital printer supervisor

Francesco Marangoni (born in 1982) graduated in Political Economics from the University of Verona in 2007. After working as a projectionist and usher in the historic Odeon cinema in Vicenza, he happened upon ASA studio albanese in 2006. Here he has helped arrange and catalogue the more than 15,000 volumes contained in the firm's library. He then devoted himself to creating architectural models with a CAD/CAM pantograph and a 3D Zcorp 650 printer. Although he has founded and is involved in the production side of a small web radio station, he insists on listening to Radio3 in the models room on an analogue radio. In his free time, with variable results, he tries to indulge in his passion for reading, music and travel. From the studio library he'd borrow Codex Seraphinianus, while his favourite media is beer.

Giuseppe Santonocito

—

Giuseppe Santonocito
communication manager

Giuseppe studied philosophy in Venice and Paris, completing his research doctorate in 2006. Since 2007 has managed ASA studio albanese's communications, dealing with new acquisitions for the Library and taking part in key concept and project philosophy planning. From 2007 to 2010 he was a regular contributor to Domus magazine, providing articles, research and reviews, as well as working as editor on the books section for several editions. Before joining ASA, he was assistant librarian at the Museum of Modern Art in Ca' Pesaro in Venice (from 2001 to 2005). As a freelance copywriter he has produced concepts and text for various projects, working with the digital storyteller Felice Limosani on "Il sole sui tetti" 2011 and 2012, with the Fondazione Gaetano Marzotto for the Progetto Marzotto 2013, and with Intertrade Group and Agenzia del Contemporaneo for Pitti Fragranze 2014. He was a tutor at the summer workshop of the Architecture School in Venice in 2009 and 2010. The often exceedingly loud music blaring through his AKG headphones includes Radiohead (and never Coldplay), he loves wide open spaces that aren't very city-like, such as Berlin, and he prefers red wine to white.

Anna Tozzi

Anna Tozzi
project manager

Anna joined the firm in 1982 after graduating from art high school. She has made her own contribution to ASA studio albanese's growth and development, helping shape its distinctive style and sensibility. An interior designer with a particular flair for design and colour, Anna has always been interested in interiors, the spatial arrangement of items, and proper and elegant proportion between tones and volumes, working on projects from their concept to their design, coordination with suppliers and relations with clients. Today she is one of the pillars of ASA studio albanese, and the point of reference for the most important interior design choices. Over time her colour palette has concentrated on soft shades, and the colour she undoubtedly uses most is beige, in all its tones. Anna loves nature, animals, baggy, warm cardigans and monographs by Liagre, both for pleasure and necessity.

Partners

Studio Berro Sartori

Images credits

Germano Borrelli, Andrea Garzotto

Video credits

Muvistudio

Website
The Hybrid Tower Mestre reflects this concept: it is located in Mestre, in an urban setting at the crossroads of Corso del Popolo and Via Torino, in a prime location for its accessibility, proximity to Venezia, and its relation with the lagoon. This part of the city has undergone very rapid transformation, evolving from being an industrial and semi-abandoned area to become a new business, tourist and residential hub.
Mestre's layout is episodic, so HTM's height of 81 metres on 19 levels is the latest episode in this evolution, a new multifunctional landmark for the city.The tower features a mechanism particularly suited to vertical buildings: the concept of hybridisation of intended uses, the coexistence and overlapping of different layers in the same architectural object.The choice of a hybrid concept, reiterated in the name it has been given, can be seen not only in the layout of the interiors but particularly in its formal solutions: in the heterogeneity of the functions that can immediately be seen from the outside, by adopting a different and typical stylistic analysis.The studio's project also did away with the typically accumulative logic of the previous projects, reducing the volumetric impact by more than 60% compared to the initial projects and improving the quality of the correlations with the surroundings.
HTM comprises collective and private areas, and has a health centre (levels 2 and 3), office levels (4-11), and residential housing (12-16), as well as a panoramic restaurant on the 17th and 18th floor and, on the top, an impressive terrace, with a 360° panoramic view.
The choice of how the residential and office areas are distributed is intentionally non-standard, with alternating duplexes and simplexes.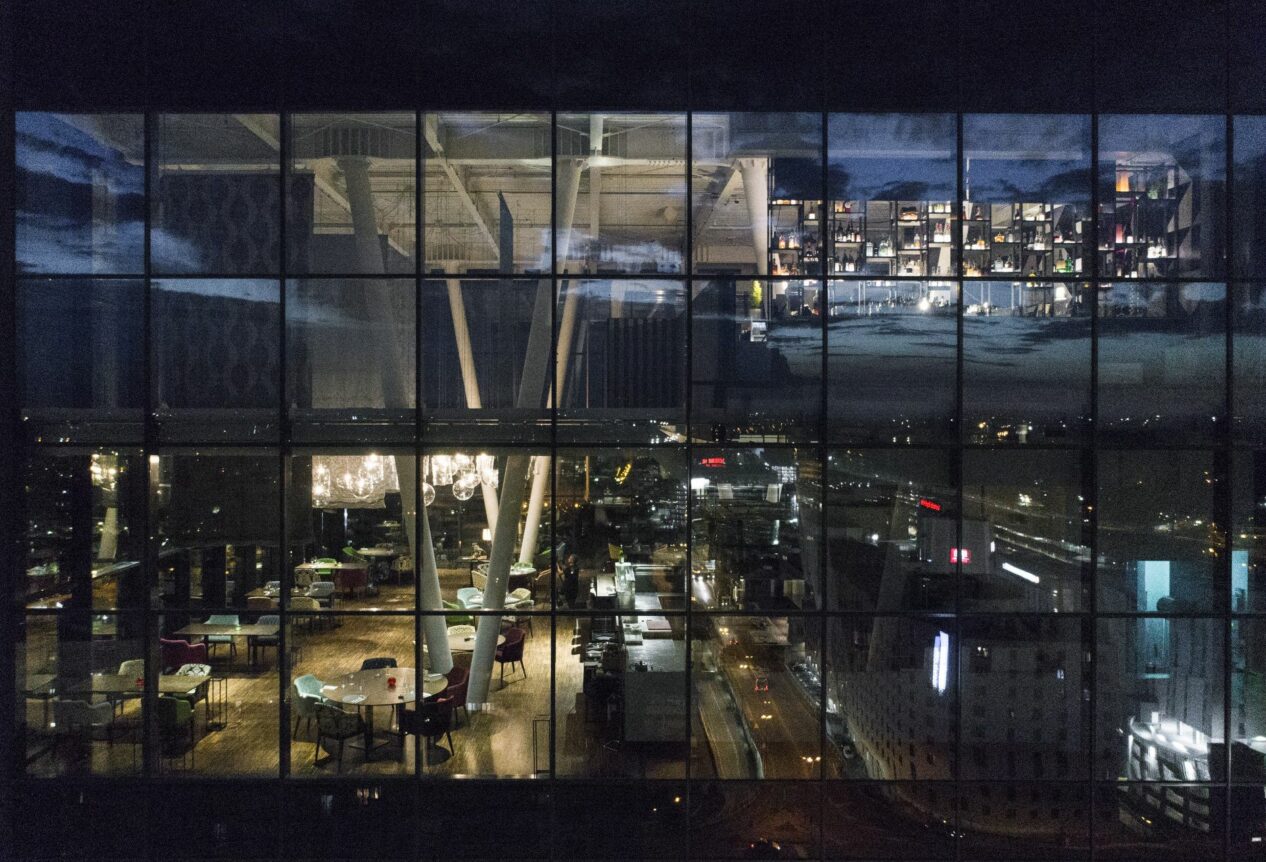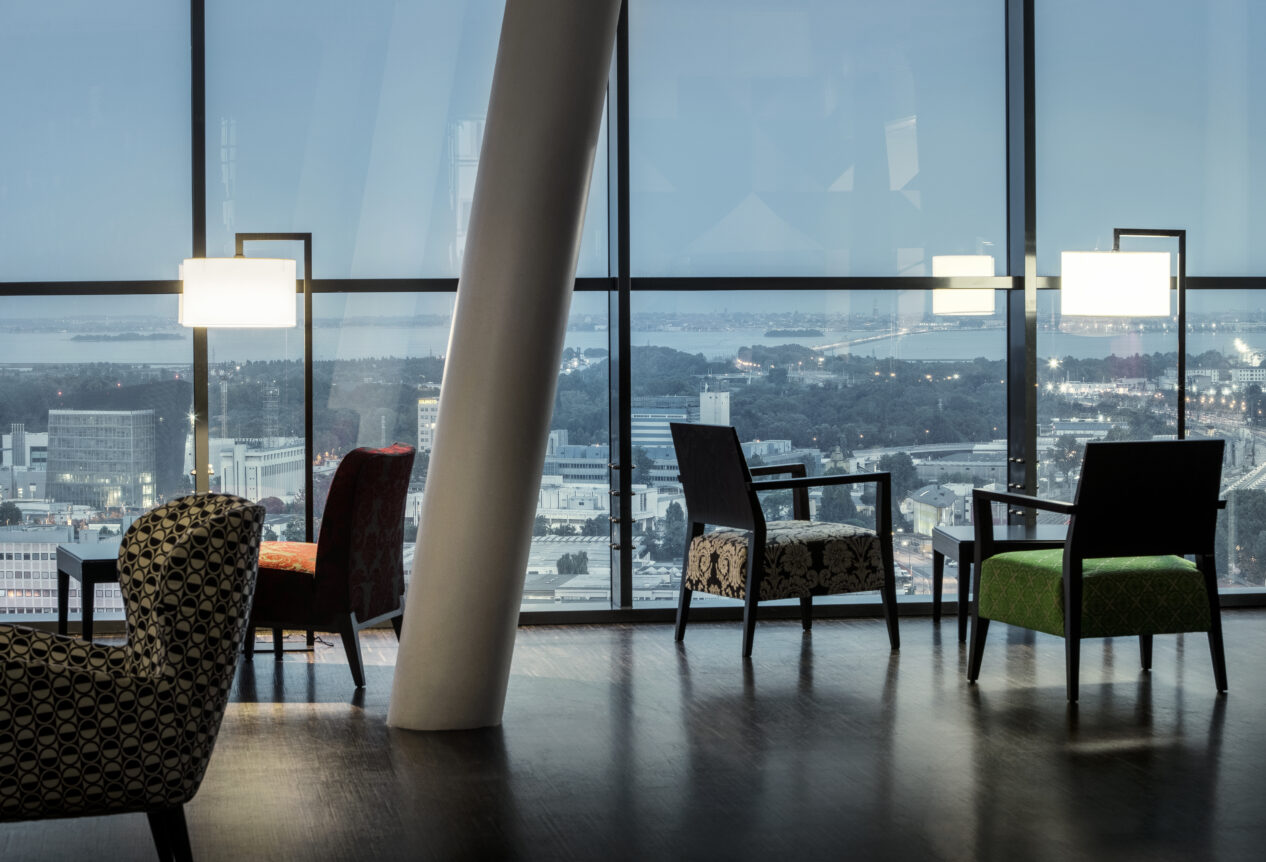 LOCATION, CONCEPT, DRAWINGS