Gelkhammar is Flavio Albanese's fishing boat, built in the historic fishing boatyards in S. Agata di Militello of the Cicirello family that has been building fishing boats for several generations now. The entirely wooden boat was built in the traditional way and was adapted to the owner's living requirements.

Client

Private

Year

2005

Status

Completed

Size

25 m

Team

project

Flavio Albanese

—

Flavio Albanese
founder & partner

Flavio Albanese (1951), is founder and president of ASA studio albanese. He is a self-educated designer, by combining his passion for contemporary art with the practical experience of an artisan-architect. Having come into contact with Carlo Scarpa, he learns from him to avoid an "a priori" approach to design, adapting on a case-by-case basis to the occasions, themes and contexts. He has held courses at the École Polytechinique Fédérale in Lausanne and at the Art Institute in Chicago (1980), at Yale University (1983), at the University of Architecture in Delft (2005), at the University of Florida (2006), at the Fundacion Proa de Buenos Aires (2008) and frequently at the most important Italian universities. He has also held two workshops at the international summer school of the Architecture School in Venice in 2009 and 2010. He was a member of the Confindustria Vicenza committee from 1998 to 2001, the Domus Academy Scientific Committee (2004-2005) and the MIart Committee of Honour (2009 and 2010), director of the Officina del Porto di Palermo (2006-2008), vice president of the Andrea Palladio Architecture Firms International Centre (2011-2015) and president of the Fondazione Teatro Comunale Città di Vicenza (2010-2016). From 2007 to 2010 he was asked to head Domus, the prestigious international architecture, design and contemporary art magazine. Active since 1971, in 1987 he founds with his brother Franco ASA studio albanese. The studio's projects were published by the most most important architecture and design magazines: the Neores project was selected for the Mies van der Rohe Foundation European Union Prize for Contemporary Architecture (2003), and ASA studio albanese took part in Venice's Architecture Biennial in 2004 and 2006. Flavio is an avid reader and bibliophile (his library, which is open to the rest of the firm, contains more than 15.000 volumes) and he is a connoisseur and collector of contemporary art.

Franco Albanese

Franco Albanese
partner, CEO & executive director

Franco Albanese (Vicenza, 1958) has worked in the world of architecture and design since 1976. He graduated from the Architecture School in Venice in 1986 and the year after he founded ASA studio albanese in Vicenza with his brother Flavio. Since then he has been the firm's CEO and Technical Manager, and this role has led him to playing his part in the creation, development and execution of the most important projects. As designer and operations manager he oversaw: the Faculty of Veterinary Medicine at the University of Padua (1997); "Neores", the production site and headquarters of Sinv Spa in Schio, Vicenza, (selected for the Mies van der Rohe Foundation European Union Prize for Contemporary Architecture in 2003); the project for the Town Hall of the Municipality of Grumolo delle Abbadesse, Vicenza (1999); "Morimondo 17", the industrial reconversion of the Sinv spa premises in Milan (2000); the headquarters of Margraf in Chiampo, in the province of Vicenza (2006). He also supervised the "Rocco Forte Verdura Resort" in Sciacca, in Sicily (2005), the expansion of Pantelleria Airport (2006), the new Rinascente in Palermo (2007), the reconversion project of Lindower 22 in Berlin (2011), the Hybrid Tower project in Mestre-Venice (2012), the Fope headquarter extension project in Vicenza (2016). In recent years, he has increasingly concentrated on reconverting urban industrial areas, which has become a key theme of ASA studio albanese's philosophy. In recent years, he has increasingly concentrated on reconverting urban industrial areas, which has become a key theme of ASA studio albanese's philosophy.

project manager

Onofrio Storniolo

Onofrio Storniolo
models officer

Onofrio joined ASA studio albanese in 2005 and specialises in 3D wood models. He works in close contact with architects particularly in the project concept phase, and his models play a decisive role in verifying solutions. Onofrio has always loved the sea and sailing. He goes back to his city of Palermo as often as he can to return to the primary elements (water, sun, wind) and look after his boat.

team

Giulio Contin

Partners

with Cantiere Ciciriello shipyard

Images credits

ASA studio albanese, Francesco Bolis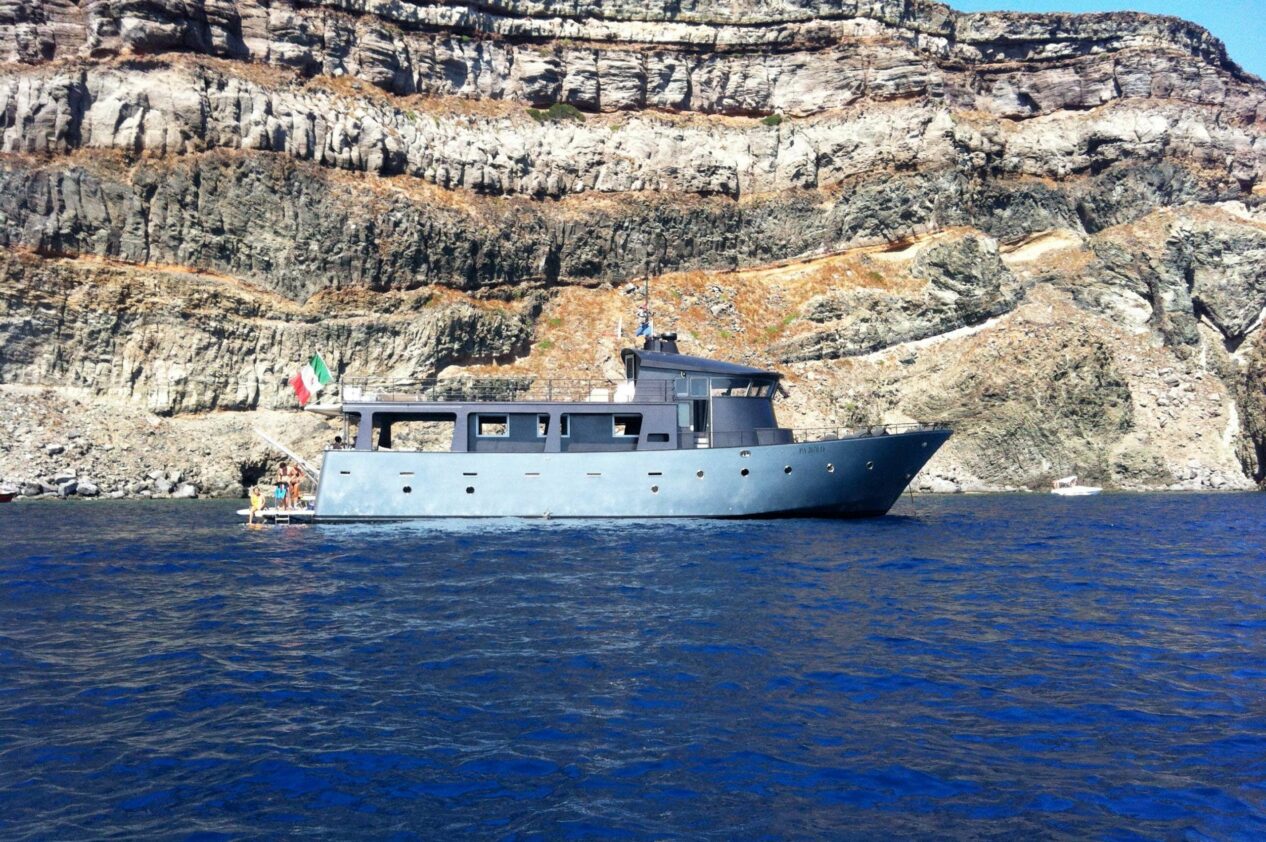 The sparse cabins painted in matte white and teak wood for the regularly made flooring, doors and windows were designed to play host to and coexist with contemporary works of art, often commissioned specifically for its walls. Pieces by Simon, Sterling, Alighiero Boetti, Martin Parr, and Elisabeth Peyton, to name just a few, transform the boat into a kind of floating art gallery.  The workspace of the fishing boats at the stern has been transformed into a large shaded area for relaxing, while the top sun deck can be turned into a small basketball court when necessary and, as it is equipped with a projection screen, into a small outdoor cinema to watch films out at sea under the stars.