In the countryside of Sandrigo the nursery school has been conceived as a reduction of the Palladian lexicon to the prime solid toys for children. Each classroom is a sort of elementary house, each with its own small pavilion-veranda, facing south, and has a different colour from the other: in this way children identify themselves with it.

Client

Comune di Sandrigo

Year

1982

Status

Completed

Size

2000 sqm

Team

director of the project

Flavio Albanese

Flavio Albanese
founder & partner

Flavio Albanese (1951), is founder and president of ASA studio albanese. A self-taught man whose training did not follow the more usual academic route, he began to show interest in shapes and design as a very young boy, and he gradually added many strings to his bow in all sectors of architecture and design. He has held courses at the École Polytechinique Fédérale in Lausanne and at the Art Institute in Chicago (1980), at Yale University (1983), at the University of Architecture in Delft (2005), at the University of Florida (2006), at the Fundacion Proa de Buenos Aires (2008) and frequently at the most important Italian universities. He has also held two workshops at the international summer school of the Architecture School in Venice in 2009 and 2010. He was a member of the Confindustria Vicenza committee from 1998 to 2001, the Domus Academy Scientific Committee (2004-2005) and the MIart Committee of Honour (2009 and 2010), director of the Officina del Porto di Palermo (2006-2008), vice president of the Andrea Palladio Architecture Firms International Centre (2011-2015) and president of the Fondazione Teatro Comunale Città di Vicenza (2010-2016). From 2007 to 2010 he was asked to head Domus, the prestigious international architecture, design and contemporary art magazine. In 1971 he inaugurated his first design studio in Vicenza. In 1987 his brother Franco joined the business, founding ASA studio albanese. The studio's projects were published by the most most important architecture and design magazines: the Neores project was selected for the Mies van der Rohe Foundation European Union Prize for Contemporary Architecture, and ASA studio albanese took part in Venice's Architecture Biennial in 2004 and 2006. Flavio is an avid reader and bibliophile (his library, which is open to the rest of the firm, contains more than 15,000 volumes) and he is a connoisseur and collector of contemporary art.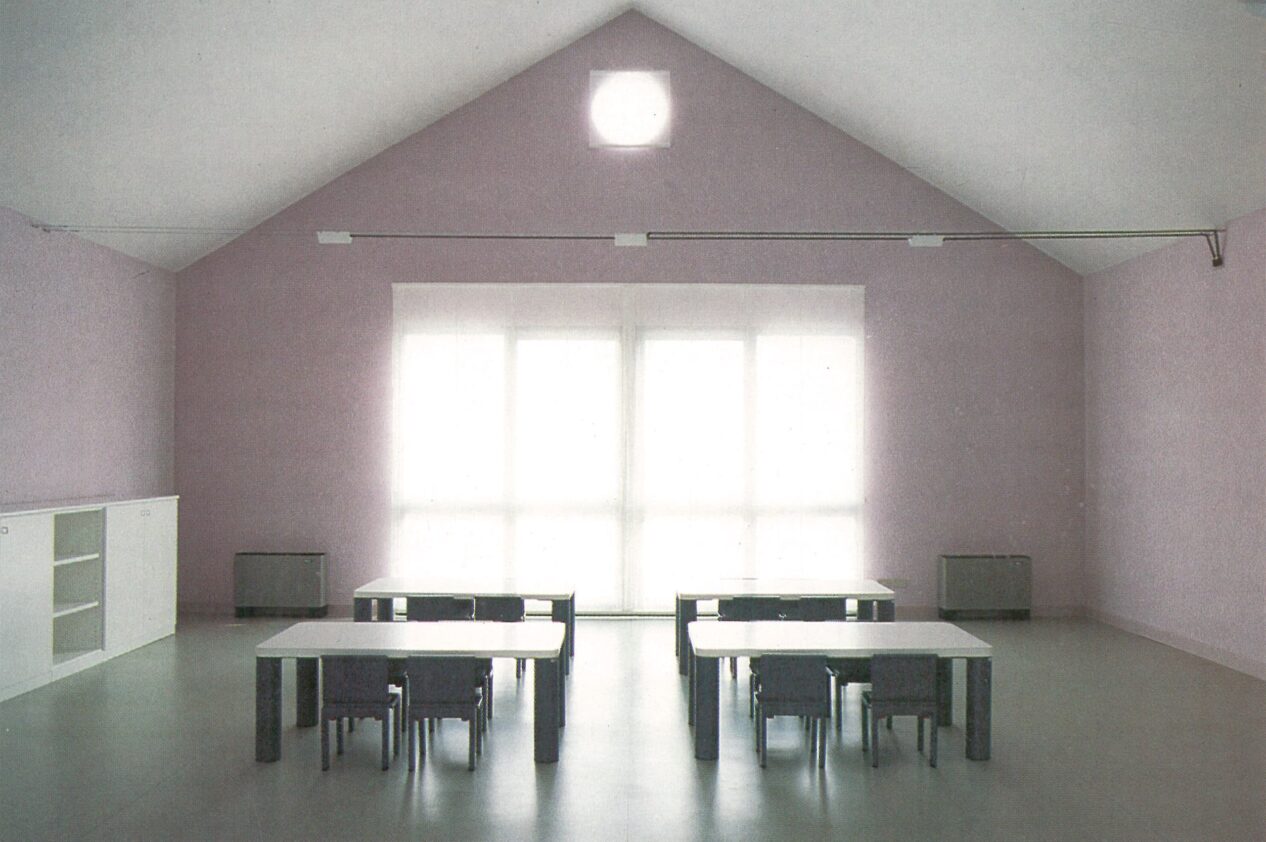 The nursery school of Sandrigo rises with its pastel colours and its playful spaces among the still green fields of a recent urbanization. The school hosts, in addition to the three teaching classroom, the canteen with its kitchen, the management teaching room, a room for meetings of the collegial bodies and other services. The architectural meme of the Palladian becomes a stylized and simplified postmodern quote that is repeated on a side portal and along the colonnade of blue light pastel pilotis. The corridor connecting the classrooms is a track where children can run and unleash their energy.