SINV Terminal is an atypical fashion showroom located in Milan in the Via Morimondo area and is the result of a project to convert and re-introduce nature into a typical industrial building from the early 20th century.

Client

Sinv Spa

Year

2000

Status

Completed

Size

10500 sqm

Team

director of project

Flavio Albanese

—

Flavio Albanese
founder & partner

Flavio Albanese (1951), is founder and president of ASA studio albanese. A self-taught man whose training did not follow the more usual academic route, he began to show interest in shapes and design as a very young boy, and he gradually added many strings to his bow in all sectors of architecture and design. He has held courses at the École Polytechinique Fédérale in Lausanne and at the Art Institute in Chicago (1980), at Yale University (1983), at the University of Architecture in Delft (2005), at the University of Florida (2006), at the Fundacion Proa de Buenos Aires (2008) and frequently at the most important Italian universities. He has also held two workshops at the international summer school of the Architecture School in Venice in 2009 and 2010. He was a member of the Confindustria Vicenza committee from 1998 to 2001, the Domus Academy Scientific Committee (2004-2005) and the MIart Committee of Honour (2009 and 2010), director of the Officina del Porto di Palermo (2006-2008), vice president of the Andrea Palladio Architecture Firms International Centre (2011-2015) and president of the Fondazione Teatro Comunale Città di Vicenza (2010-2016). From 2007 to 2010 he was asked to head Domus, the prestigious international architecture, design and contemporary art magazine. Together with his brother France, he founded ASA studio albanese in Vicenza in 1987, whose projects have appeared in the most important architecture and design magazines. The Neores project was selected for the Mies van der Rohe Foundation European Union Prize for Contemporary Architecture, and ASA studio albanese took part in Venice's Architecture Biennial in 2004 and 2006. Flavio is an avid reader and bibliophile (his library, which is open to the rest of the firm, contains more than 15,000 volumes) and he is a connoisseur and collector of contemporary art.

Franco Albanese

Franco Albanese
partner, CEO & executive director

Franco Albanese (born in Vicenza in 1958) has worked in the world of architecture and design since 1976. He graduated from the Architecture School in Venice in 1986 and the year after he founded ASA studio albanese in Vicenza with his brother Flavio. Since then he has been the firm's CEO and Technical Manager, and this role has led him to playing his part in the creation, development and execution of the most important projects. As designer and operations manager he oversaw: the Faculty of Veterinary Medicine at the University of Padua (1997); "Neores", the production site and headquarters of Sinv Spa in Schio, Vicenza, (selected for the Mies van der Rohe Foundation European Union Prize for Contemporary Architecture in 2003); the project for the Town Hall of the Municipality of Grumolo delle Abbadesse, Vicenza (1999); "Morimondo 17", the industrial reconversion of the Sinv spa premises in Milan (2000); the headquarters of Margraf in Chiampo, in the province of Vicenza (2006); and the redevelopment of the "Cava di Mursia" on Pantelleria (2010). He also supervised the design of the Mestre bypass (2004), the "Rocco Forte Verdura Resort" in Sciacca, in Sicily (2005), the expansion of Pantelleria Airport (2006) and the new Rinascente in Palermo (2007). In recent years, he has increasingly concentrated on reconverting urban industrial areas, which has become a key theme of ASA studio albanese's philosophy.

project administrator

Andrea Marlia —

Giulio Pugno Vanoni

team

Simone Cordara —

Davide Petronici —

Clara Riva —

Susanna Rosti Rossini

Partners

First Step: Dotti& Associati | Second Step: SCE project

Images credits

Gaia Giacomelli, Germano Borrelli, ASA studio albanese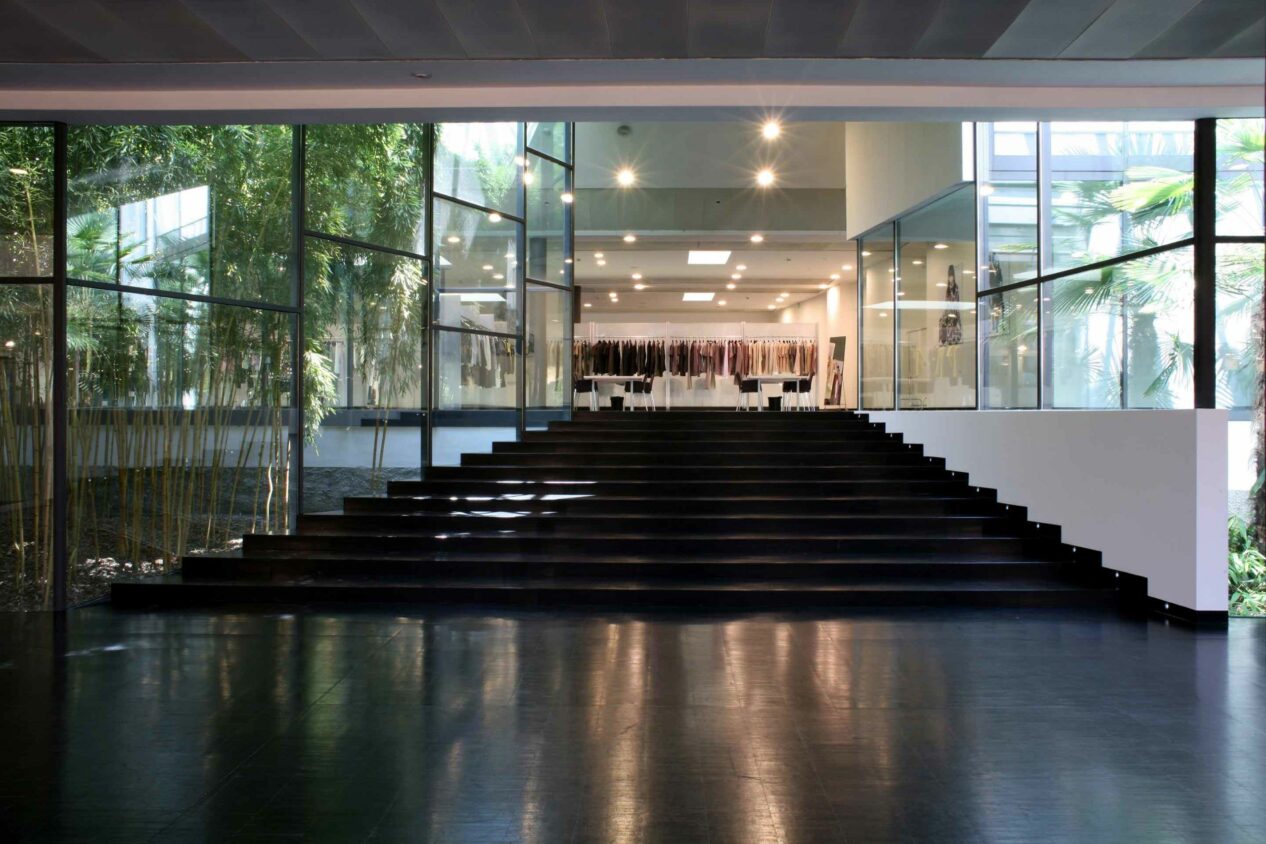 Located in the Via Morimondo 17 area and previously occupied by an early 20th century industrial plant, Sinv Terminal is a particularly interesting post-industrial retrofit project, thanks to the intersection and coexistence of two different operational plans: rapid regeneration strategies and the principle of re-introducing nature.
The Sinv Terminal project was split into two phases, each with a different perception and procedure.
In the first step, the old shed pavilions that would house the Sinv group display areas, offices and press centre were restored and redefined with light as the theme, taking its inspiration from the relationship between manufacturing and nature. This concept was expanded further by a large conservatory with inverted microclimates, by plant tubs, and large windows through which plenty of daylight streams into the interiors.
Step 2 was the perfect complement to the first phase: the initial 5,000 m2 were joined by more than 5,000 m2 in a second building, connected to the first by an organic greenhouse membrane.  This second phase involved restoring and refitting the existing industrial buildings with their typical cast iron pillars, as well as designing a contemporary X-level structure in cement and glass. Also inside this second block is the hard-to-describe Showroom Casa Coming Soon: a loft space, an apartment that is also a showroom, an ideas lab and a contemporary art gallery.