The Colli Berici Golf Club is set in the hills that look down over the city of Vicenza.
The clubhouse and the restaurant were renovated and an outdoor pool with a view of the woods was installed.
Client

golf club colli berici

Year

2014

Status

Completed

Size

800 sqm

Team

project

Flavio Albanese

—

Flavio Albanese
founder & partner

Flavio Albanese (1951), is founder and president of ASA studio albanese. He is a self-educated designer, by combining his passion for contemporary art with the practical experience of an artisan-architect. Having come into contact with Carlo Scarpa, he learns from him to avoid an "a priori" approach to design, adapting on a case-by-case basis to the occasions, themes and contexts. He has held courses at the École Polytechinique Fédérale in Lausanne and at the Art Institute in Chicago (1980), at Yale University (1983), at the University of Architecture in Delft (2005), at the University of Florida (2006), at the Fundacion Proa de Buenos Aires (2008) and frequently at the most important Italian universities. He has also held two workshops at the international summer school of the Architecture School in Venice in 2009 and 2010. He was a member of the Confindustria Vicenza committee from 1998 to 2001, the Domus Academy Scientific Committee (2004-2005) and the MIart Committee of Honour (2009 and 2010), director of the Officina del Porto di Palermo (2006-2008), vice president of the Andrea Palladio Architecture Firms International Centre (2011-2015) and president of the Fondazione Teatro Comunale Città di Vicenza (2010-2016). From 2007 to 2010 he was asked to head Domus, the prestigious international architecture, design and contemporary art magazine. Active since 1971, in 1987 he founds with his brother Franco ASA studio albanese. The studio's projects were published by the most most important architecture and design magazines: the Neores project was selected for the Mies van der Rohe Foundation European Union Prize for Contemporary Architecture (2003), and ASA studio albanese took part in Venice's Architecture Biennial in 2004 and 2006. Flavio is an avid reader and bibliophile (his library, which is open to the rest of the firm, contains more than 15.000 volumes) and he is a connoisseur and collector of contemporary art.

Franco Albanese

Franco Albanese
partner, CEO & executive director

Franco Albanese (Vicenza, 1958) has worked in the world of architecture and design since 1976. He graduated from the Architecture School in Venice in 1986 and the year after he founded ASA studio albanese in Vicenza with his brother Flavio. Since then he has been the firm's CEO and Technical Manager, and this role has led him to playing his part in the creation, development and execution of the most important projects. As designer and operations manager he oversaw: the Faculty of Veterinary Medicine at the University of Padua (1997); "Neores", the production site and headquarters of Sinv Spa in Schio, Vicenza, (selected for the Mies van der Rohe Foundation European Union Prize for Contemporary Architecture in 2003); the project for the Town Hall of the Municipality of Grumolo delle Abbadesse, Vicenza (1999); "Morimondo 17", the industrial reconversion of the Sinv spa premises in Milan (2000); the headquarters of Margraf in Chiampo, in the province of Vicenza (2006). He also supervised the "Rocco Forte Verdura Resort" in Sciacca, in Sicily (2005), the expansion of Pantelleria Airport (2006), the new Rinascente in Palermo (2007), the reconversion project of Lindower 22 in Berlin (2011), the Hybrid Tower project in Mestre-Venice (2012), the Fope headquarter extension project in Vicenza (2016). In recent years, he has increasingly concentrated on reconverting urban industrial areas, which has become a key theme of ASA studio albanese's philosophy. In recent years, he has increasingly concentrated on reconverting urban industrial areas, which has become a key theme of ASA studio albanese's philosophy.

project manager

Riccardo Nicoletti

Riccardo Nicoletti
architect

Riccardo graduated in architecture from the IUAV in Venice in 2002 and has worked with ASA studio albanese since 2008. He develops projects concerning production sites and offices, in particular in their final/working stages. He acts as a kind of "guarantor" for continuity between the design concept ideas and their final implementation. From 2002 to 2008 he worked at Morbiato, a construction company, dealing with architectural design, creating working plans, and assisting works managers on site. Riccardo is a practical man, with a passion for construction techniques, which he often experiments with, adopting the most innovative approaches. A proud amateur volleyball player, he says that if he hadn't become an architect he would have been a fireman.

team

Andrea Garzotto

—

Andrea Garzotto
architect

Andrea is an architect who specialises in image rendering of projects and 3D models and joined ASA studio albanese in 2007. Virtual rendering and 3D models are a key aspect of every level in architectural projects, which is why Andrea is involved in all the firm's most important projects. Besides rendering images, he also works in interior design and architectural design. After spending a year and a half in Porto, where he fell in love with black and white images, he graduated in architecture from the IUAV in Venice in 2006. In December 2012, he opened "Incipit", a collective space and laboratory for the visual arts. Andrea is a freelance photographer, and considers himself to be a precursor to selfies and a wannabee biker. Travelling is an integral part of his life and his photography. He loves the Berghain in Berlin and wines that have bubbles.

Anna Tozzi

Anna Tozzi
project manager

Anna joined the firm in 1982 after graduating from art high school. She has made her own contribution to ASA studio albanese's growth and development, helping shape its distinctive style and sensibility. An interior designer with a particular flair for design and colour, Anna has always been interested in interiors, the spatial arrangement of items, and proper and elegant proportion between tones and volumes, working on projects from their concept to their design, coordination with suppliers and relations with clients. Today she is one of the pillars of ASA studio albanese, and the point of reference for the most important interior design choices. Over time her colour palette has concentrated on soft shades, and the colour she undoubtedly uses most is beige, in all its tones. Anna loves nature, animals, baggy, warm cardigans and monographs by Liagre, both for pleasure and necessity.

Partners

Giandomenico Maria Paturzo

Images credits

Andrea Garzotto, Golf Club Colli Berici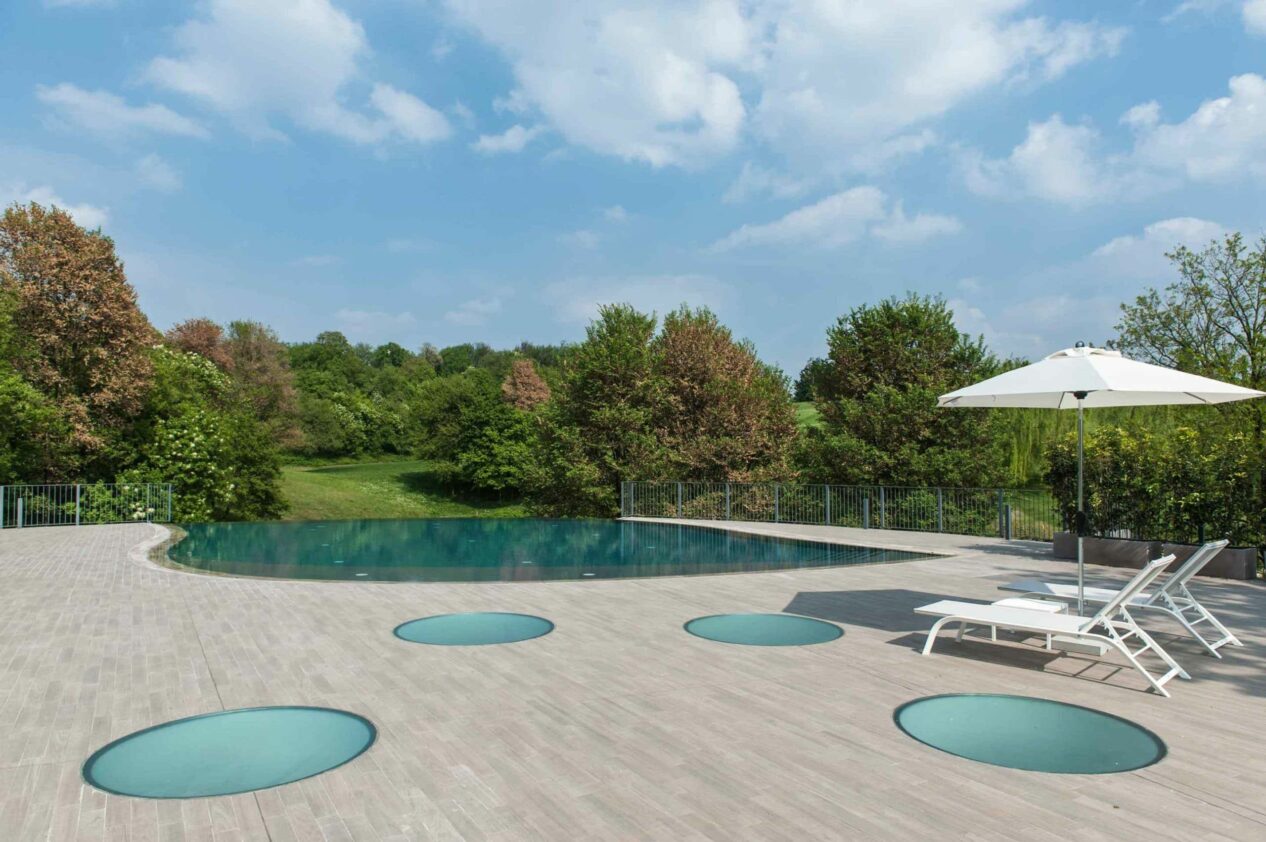 The project involved refurbishing both the exterior and the interior of a clubhouse turned into a restaurant and building a new clubhouse with a new members' entrance, a pro shop, sofas in the lounge, a TV room, a smoking room, a games room and a bar room. The rooms around the patios of various sizes and their relationship with the outdoors were enhanced by constructing a veranda with large windows looking out over the surroundings. The work also involved creating a lawn that was to be as natural an extension as possible of the golfing green. At the same time a new swimming pool with changing rooms and technical rooms was built, consisting of a camouflaged edge and an organically shaped surface along the slope of the lawn, like a small lake nestling in the landscape.