FROM / TO is the installation-exhibition organized for the MakeCity Berlin 2018 festival, to communicate the way in which ASA studio albanese triggers the architectural processes.
In the Lindower 22 project, which is also the site of the installation, these processes were developed through "rapid regeneration strategies" aimed at occupying a space, manipulating it only in the strictly necessary forms and finally returning it, leaving only some signs of our passage. Just like desert nomads do.
Working on this association, we decided to use the nomadic metaphor to describe our approach to architecture, grouping the themes and activities of ASA studio albanese into five categories and aligning the materials on sheets laid on the floor, like in a traveling bazaar. Each visitor was able to see them closely and obtain an evocative idea of ​​the stratification and cooperation of different actions that are hidden in the background of every complex architectural project. At the end of the exhibition the sheets were removed leaving only a few traces, together with the memory of this event in the mind of those who participated. This is ASA studio albanese.
Client

ASA studio albanese

Year

2017

Status

Completed

Size

/

Team

f project

Flavio Albanese

—

Flavio Albanese
founder & partner

Flavio Albanese (1951), is founder and president of ASA studio albanese. He is a self-educated designer, by combining his passion for contemporary art with the practical experience of an artisan-architect. Having come into contact with Carlo Scarpa, he learns from him to avoid an "a priori" approach to design, adapting on a case-by-case basis to the occasions, themes and contexts. He has held courses at the École Polytechinique Fédérale in Lausanne and at the Art Institute in Chicago (1980), at Yale University (1983), at the University of Architecture in Delft (2005), at the University of Florida (2006), at the Fundacion Proa de Buenos Aires (2008) and frequently at the most important Italian universities. He has also held two workshops at the international summer school of the Architecture School in Venice in 2009 and 2010. He was a member of the Confindustria Vicenza committee from 1998 to 2001, the Domus Academy Scientific Committee (2004-2005) and the MIart Committee of Honour (2009 and 2010), director of the Officina del Porto di Palermo (2006-2008), vice president of the Andrea Palladio Architecture Firms International Centre (2011-2015) and president of the Fondazione Teatro Comunale Città di Vicenza (2010-2016). From 2007 to 2010 he was asked to head Domus, the prestigious international architecture, design and contemporary art magazine. Active since 1971, in 1987 he founds with his brother Franco ASA studio albanese. The studio's projects were published by the most most important architecture and design magazines: the Neores project was selected for the Mies van der Rohe Foundation European Union Prize for Contemporary Architecture (2003), and ASA studio albanese took part in Venice's Architecture Biennial in 2004 and 2006. Flavio is an avid reader and bibliophile (his library, which is open to the rest of the firm, contains more than 15.000 volumes) and he is a connoisseur and collector of contemporary art.

Franco Albanese

Franco Albanese
partner, CEO & executive director

Franco Albanese (Vicenza, 1958) has worked in the world of architecture and design since 1976. He graduated from the Architecture School in Venice in 1986 and the year after he founded ASA studio albanese in Vicenza with his brother Flavio. Since then he has been the firm's CEO and Technical Manager, and this role has led him to playing his part in the creation, development and execution of the most important projects. As designer and operations manager he oversaw: the Faculty of Veterinary Medicine at the University of Padua (1997); "Neores", the production site and headquarters of Sinv Spa in Schio, Vicenza, (selected for the Mies van der Rohe Foundation European Union Prize for Contemporary Architecture in 2003); the project for the Town Hall of the Municipality of Grumolo delle Abbadesse, Vicenza (1999); "Morimondo 17", the industrial reconversion of the Sinv spa premises in Milan (2000); the headquarters of Margraf in Chiampo, in the province of Vicenza (2006). He also supervised the "Rocco Forte Verdura Resort" in Sciacca, in Sicily (2005), the expansion of Pantelleria Airport (2006), the new Rinascente in Palermo (2007), the reconversion project of Lindower 22 in Berlin (2011), the Hybrid Tower project in Mestre-Venice (2012), the Fope headquarter extension project in Vicenza (2016). In recent years, he has increasingly concentrated on reconverting urban industrial areas, which has become a key theme of ASA studio albanese's philosophy. In recent years, he has increasingly concentrated on reconverting urban industrial areas, which has become a key theme of ASA studio albanese's philosophy.

project manager

Piero Corradin

Piero Corradin
partner, head of projects

Piero Corradin has been a partner of the firm since 2020 and head of project since 2014. He graduated from the Iuav Architecture School in Venice in 2002 and in the same year began working as an architect in ASA studio albanese. Some of the most important projects Piero has worked on include the urban redevelopment of a quarter in Beijing to an OMA masterplan (2007), the new branch of Banca Popolare in Marostica (2006), the new headquarters of AFV Acciaierie Beltrame in Vicenza (2007), the bid for the new Exhibition Centre in Vicenza (2008), and the international bid "Recupero della cava di Mursia" on the island of Pantelleria (2010). In 2012 he took part in the Hybrid Tower project in Mestre (Venice), in 2016 in the Fope headquarter extension project (Vicenza) and in the Agrologic agro-food hub in Monselice. In 2008 he was tutor for PreVisioni, the international workshop on the future masterplan for Vicenza and at the 2009-2010 summer workshops of the Iuav Architecture School in Venice.

team

Andrea Garzotto

—

Andrea Garzotto
architect

Andrea is an architect who specialises in image rendering of projects and 3D models and joined ASA studio albanese in 2007. Virtual rendering and 3D models are a key aspect of every level in architectural projects, which is why Andrea is involved in all the firm's most important projects. Besides rendering images, he also works in interior design and architectural design. After spending a year and a half in Porto, where he fell in love with black and white images, he graduated in architecture from the IUAV in Venice in 2006. In December 2012, he opened "Incipit", a collective space and laboratory for the visual arts. Andrea is a freelance photographer, and considers himself to be a precursor to selfies and a wannabee biker. Travelling is an integral part of his life and his photography. He loves the Berghain in Berlin and wines that have bubbles.

Francesco Marangoni

—

Francesco Marangoni
3d models & digital printer supervisor

Francesco Marangoni (born in 1982) graduated in Political Economics from the University of Verona in 2007. After working as a projectionist and usher in the historic Odeon cinema in Vicenza, he happened upon ASA studio albanese in 2006. Here he has helped arrange and catalogue the more than 15,000 volumes contained in the firm's library. He then devoted himself to creating architectural models with a CAD/CAM pantograph and a 3D Zcorp 650 printer. Although he has founded and is involved in the production side of a small web radio station, he insists on listening to Radio3 in the models room on an analogue radio. In his free time, with variable results, he tries to indulge in his passion for reading, music and travel. From the studio library he'd borrow Codex Seraphinianus, while his favourite media is beer.

Simone Matteazzi

—

Simone Matteazzi
project manager

Since 2008, the year he joined ASA studio albanese, Simone has followed projects throughout their creation, from feasibility studies to the final stage. He specialises in relations with public bodies and local government, particularly as regards urban and regional planning. Since 2011, he has been working on the complex Lindower 22 project in Berlin, for which he has supervised the retrofit phase and the new construction work. Before joining ASA studio albanese, he worked for Archistudio in Vicenza (from 2001 to 2008) and as a member of the National City Planning Institute (2003-2008). He has also taught CAD at the Pier Giacomo Castiglioni Interior Architecture Institute from 2002 to 2012. He is currently Vice President of the Ordine degli Architetti Paesaggisti Pianificatori della Provincia di Vicenza and in this role he has been a member of national architecture tender commissions. His favourite word is frontier, and he prefers the beach to the mountains.

Giuseppe Santonocito

—

Giuseppe Santonocito
communication manager

Giuseppe studied philosophy in Venice and Paris, completing his research doctorate in 2006. Since 2007 has managed ASA studio albanese's communications, dealing with new acquisitions for the Library and taking part in key concept and project philosophy planning. From 2007 to 2010 he was a regular contributor to Domus magazine, providing articles, research and reviews, as well as working as editor on the books section for several editions. Before joining ASA, he was assistant librarian at the Museum of Modern Art in Ca' Pesaro in Venice (from 2001 to 2005). As a freelance copywriter he has produced concepts and text for various projects, working with the digital storyteller Felice Limosani on "Il sole sui tetti" 2011 and 2012, with the Fondazione Gaetano Marzotto for the Progetto Marzotto 2013, and with Intertrade Group and Agenzia del Contemporaneo for Pitti Fragranze 2014. He was a tutor at the summer workshop of the Architecture School in Venice in 2009 and 2010. The often exceedingly loud music blaring through his AKG headphones includes Radiohead (and never Coldplay), he loves wide open spaces that aren't very city-like, such as Berlin, and he prefers red wine to white.

Blendi Vishkurti

—

Blendi Vishkurti
architect

Blendi started at the studio with an internship in 2018 and was fundamental in completing the installations for the FROM/TO exhibition organized in Berlin as part of the MakeCity 2018 festival. Immediately after graduating from the Iuav in 2021, he fully became one of Asa's architects. Together with his partner in crime Blendi, he obtained an honorable mention at the EUROPAN16 international competition in 2021 with the project "Back to nature" and was a finalist for the Federico Maggia Architecture Award in Biella in 2022 with a site-specific project for ephemeral architecture. As a child he would have liked to be a bricklayer (somehow he remained in the field), he loves and studies bonsai and for this reason he would like to live in the countryside one day. If we asked him who to throw from the tower having to choose between Tolkien and Asimov he would answer like Bartelby the Scrivener: "I would prefer not to."

Filippo Zampese

Filippo Zampese
architect visualizer

Filippo was born in 1984 and became an architect when he graduated in Construction Architecture from the IUAV in 2010, specialising in Digital Architecture for his master's also in Venice in 2010. He joined ASA studio albanese in 2015 and he deals with 3D design and models, prototyping, rendering, and post-production of images and videos. Before arriving in Vicenza, he worked in Maastricht at SatijnPlus Architecten, in Milan for Cino Zucchi Architetti and in Rome for Fuksas Architecture. When he's not designing, Filippo is a musician and composer for the band A New Silent Corporation, with whom he has recorded two albums of post-rock instrumental music (Everything Is Exactly As It Seems, 2009; Odyssea, 2016). He plays electric guitar (for which he has a collection of pedals that he doesn't know how to use) and piano. He loves dogs and hates people who talk on trains, which perhaps explains why he would like to have been an astronaut.

Partners

MakeCity Festival, Heim Balp Architekten, Onlab

Website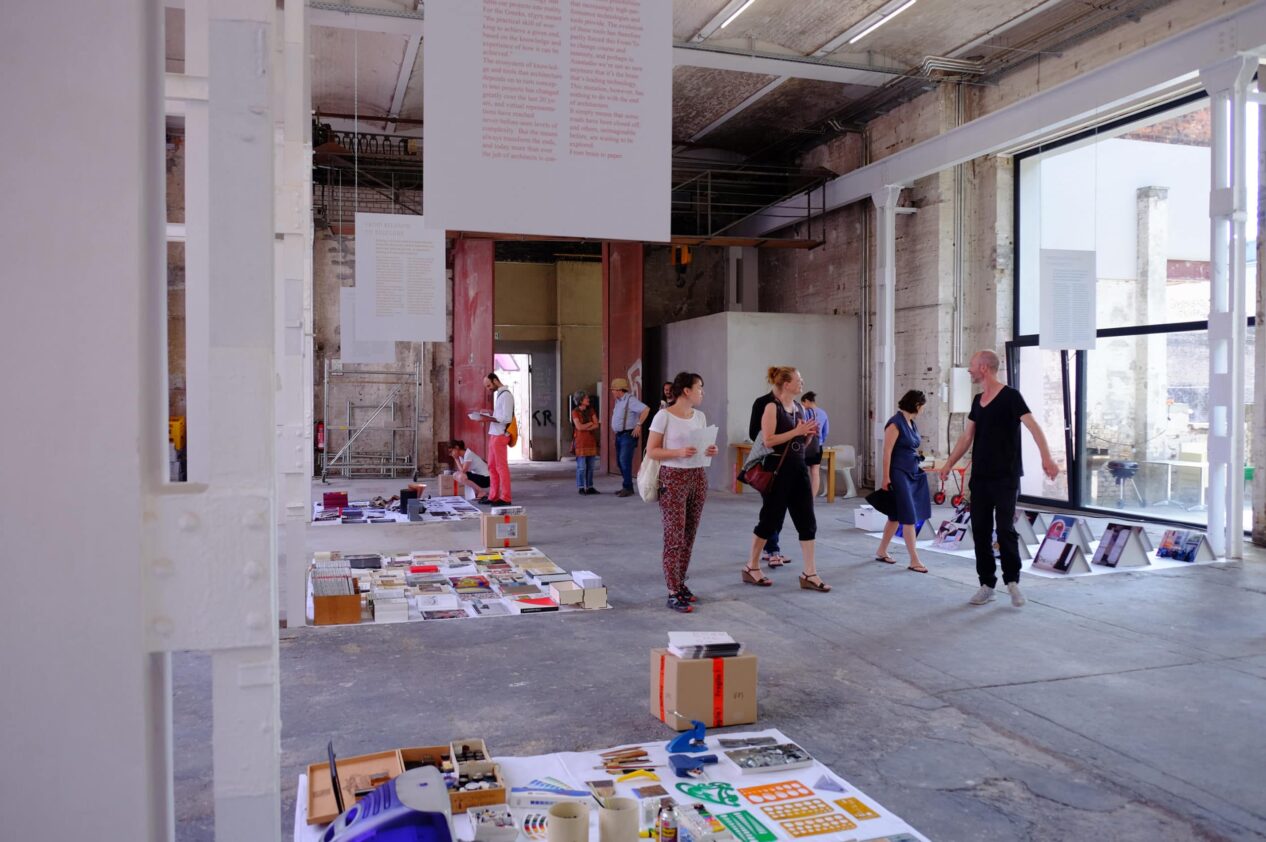 Why Nomadic strategies? What does nomadism has to do with the space and the project of Lindower Strasse 22?
In the human system of transformations, architecture plays a decisive role, especially in the transformation of urban spaces. Every reconversion is a process that involves a starting point and an end point: FROM-TO. Designing architecture means provoking transformations, feeding the becoming, promoting change. The processes involved in change, especially in historic European cities, do not happen on the blank sheet of a tabula rasa but are constantly faced with the heritage of constructions and buildings that have been handed down from the past. This heritage is difficult to manage because it's usually unfit, unsuitable for the needs of contemporary living (for structural characters or for economic costs). ASA studio albanese thinks that the processes of transformation must be somehow governed by responsability procedures, through which architecture and society take charge of the architecture heritage. These aspects have already entered our language and our architecture style. Our headquarters and many of our projects are here to prove it. To address the topic of reconversion of abandoned buildings, we created a genuine lexicon called "rapid regeneration strategies", a system of nomadic practises for the re-appropriation of unused spaces. There are many nomadic strategies and no two are alike: they work at different speeds and on different levels. But however different they may be, they nonetheless all draw from a general toolbox based on a number of keywords: Necessitating condition, Fragility, Reduction, Hybridisation, Contemporaneity, Habitat.
These guiding concepts reflect a consideration that spans a period of more than 30 years, during which ASA studio albanese developed a very eclectic and flexible approach to design. Eclecticism should not be lived as a lack of identity, but as a lateral form of identity: an identity based on fluidity.  Our projects do not follow a straight line: their path is lateral (sometimes circular) with reconsiderations, disorientation, improbable associations and irregular combinations. In the Lindower 22 project we can find all the primary aspects of our regeneration strategies: the topics of necessity, reduction, Low-fi, hybridisation, and the respect of the context.
Lindower22 has been an enormous open-air laboratory, where tactics have been applied that were perfected and evolved in different times and places, from simple maintenance to standards to building new volumes. Most of the volumes in Lindower 22 had their own history and potent architecture, which we weren't so presumptuous to think that we should redesign. In the completely preserved spaces, the respect has been translated into the research of basic and useful. Basic, is the attempt to minimize alteration on existing buildings: all new contributions are standard, as simple as possible. Useful, because any pre-existing element or plant that is still able to function has been recovered and put into operation, adding and modernizing only where necessary. Buildings without historical importance and with structural or architectural problems,  have been demolished and will be rebuilt by hosting new functions.
We've made Lindower 22 welcoming again, trying to leave it untouched where possible, but setting the compound to make it contemporary and synchronize it with the evolution of the city. FROM/TO is the exhibition-installation that communicates our way of triggering architectural processes, both in general and for Lindower 22 in particular. It was essential for us the idea of ​​occupying a space, manipulating it only in the strictly necessary forms, and finally returning it, leaving only a few signs of our passage. Just like desert nomads do. Working on this association we've grouped the themes and activities of ASA studio albanese into five categories and we aligned them on sheets on the floor like in a itinerant bazaar. Each visitor will be able to see them closely and get an evocative idea of the stratification and coordination of such a complex architecture project. At the end of the exhibition the sheets will be removed and only a few traces will remain, together with the memory of this event in the mind of who partecipated.