The new headquarter of Facco reborn as a phoenix from the ashes of a violent fire that destroyed most of the production facilities and offices.
Client

Officine Facco & C Spa

Year

2016

Status

Completed

Size

5800 sqm

Team

project

Flavio Albanese

—

Flavio Albanese
founder & partner

Flavio Albanese (1951), is founder and president of ASA studio albanese. He is a self-educated designer, by combining his passion for contemporary art with the practical experience of an artisan-architect. Having come into contact with Carlo Scarpa, he learns from him to avoid an "a priori" approach to design, adapting on a case-by-case basis to the occasions, themes and contexts. He has held courses at the École Polytechinique Fédérale in Lausanne and at the Art Institute in Chicago (1980), at Yale University (1983), at the University of Architecture in Delft (2005), at the University of Florida (2006), at the Fundacion Proa de Buenos Aires (2008) and frequently at the most important Italian universities. He has also held two workshops at the international summer school of the Architecture School in Venice in 2009 and 2010. He was a member of the Confindustria Vicenza committee from 1998 to 2001, the Domus Academy Scientific Committee (2004-2005) and the MIart Committee of Honour (2009 and 2010), director of the Officina del Porto di Palermo (2006-2008), vice president of the Andrea Palladio Architecture Firms International Centre (2011-2015) and president of the Fondazione Teatro Comunale Città di Vicenza (2010-2016). From 2007 to 2010 he was asked to head Domus, the prestigious international architecture, design and contemporary art magazine. Active since 1971, in 1987 he founds with his brother Franco ASA studio albanese. The studio's projects were published by the most most important architecture and design magazines: the Neores project was selected for the Mies van der Rohe Foundation European Union Prize for Contemporary Architecture (2003), and ASA studio albanese took part in Venice's Architecture Biennial in 2004 and 2006. Flavio is an avid reader and bibliophile (his library, which is open to the rest of the firm, contains more than 15.000 volumes) and he is a connoisseur and collector of contemporary art.

Franco Albanese

Franco Albanese
partner, CEO & executive director

Franco Albanese (Vicenza, 1958) has worked in the world of architecture and design since 1976. He graduated from the Architecture School in Venice in 1986 and the year after he founded ASA studio albanese in Vicenza with his brother Flavio. Since then he has been the firm's CEO and Technical Manager, and this role has led him to playing his part in the creation, development and execution of the most important projects. As designer and operations manager he oversaw: the Faculty of Veterinary Medicine at the University of Padua (1997); "Neores", the production site and headquarters of Sinv Spa in Schio, Vicenza, (selected for the Mies van der Rohe Foundation European Union Prize for Contemporary Architecture in 2003); the project for the Town Hall of the Municipality of Grumolo delle Abbadesse, Vicenza (1999); "Morimondo 17", the industrial reconversion of the Sinv spa premises in Milan (2000); the headquarters of Margraf in Chiampo, in the province of Vicenza (2006). He also supervised the "Rocco Forte Verdura Resort" in Sciacca, in Sicily (2005), the expansion of Pantelleria Airport (2006), the new Rinascente in Palermo (2007), the reconversion project of Lindower 22 in Berlin (2011), the Hybrid Tower project in Mestre-Venice (2012), the Fope headquarter extension project in Vicenza (2016). In recent years, he has increasingly concentrated on reconverting urban industrial areas, which has become a key theme of ASA studio albanese's philosophy. In recent years, he has increasingly concentrated on reconverting urban industrial areas, which has become a key theme of ASA studio albanese's philosophy.

project manager

Nicola Caputo

Nicola Caputo
architect

final and working stages of projects, coordinating operations on site for the professionals who physically create the project and working with clients on their choices to ensure that the firm's vision for the project is in keeping with the clients' wishes. For the firm Nicola has been involved in projects that include the Rocco Forte Verdura Resort in Sciacca, the Hybrid Tower in Mestre, the Villa Coeur Jolie in Cap d'Antibes, as well as many other projects. Before joining ASA studio albanese, he worked at Studio Altieri in Thiene, in the contract field in workplace interiors with Adotta, and again as designer with Studio Gabbiani & associati, tackling projects of different sizes, including hospitals, shopping malls, infrastructure and restoration work. He lives in Vicenza with his wife and son. He's a keen pre-master swimmer and when he isn't diving into the firm's design projects, he's diving into swimming pools. One of his favourite books is "The Art of War" by Sun Tzu. One thing he couldn't live without is a pair of well-crafted shoes.

team

Riccardo Nicoletti

—

Riccardo Nicoletti
architect

Riccardo graduated in architecture from the IUAV in Venice in 2002 and has worked with ASA studio albanese since 2008. He develops projects concerning production sites and offices, in particular in their final/working stages. He acts as a kind of "guarantor" for continuity between the design concept ideas and their final implementation. From 2002 to 2008 he worked at Morbiato, a construction company, dealing with architectural design, creating working plans, and assisting works managers on site. Riccardo is a practical man, with a passion for construction techniques, which he often experiments with, adopting the most innovative approaches. A proud amateur volleyball player, he says that if he hadn't become an architect he would have been a fireman.

Charlotte Pigozzi

—

Charlotte Pigozzi
architect

Charlotte is an architect, she is half from Reggio Emilia and half French. After attending the Politecnico di Milano, she graduated in 2017 following an internship at Paulo Moreira's atelier in Porto. She came to Asa Studio Albanese in Vicenza at the beginning of 2018, almost tiptoeing, to collaborate on the delivery of the villas of the Verdura resort in Sciacca. We've held onto her ever since. Cha, as everyone calls her, is multilingual, multitasking and is involved in some of the most important projects developed by the studio. She loves travelling and yoga. If she wasn't an architect she would have been a perfumer. She shares with her grandmother a special and secret recipe for cappelletti, which she will never reveal. Her favorite motto is: he who knows all the answers has not been asked all the questions.

Filippo Zampese

Filippo Zampese
architect visualizer

Filippo was born in 1984 and became an architect when he graduated in Construction Architecture from the IUAV in 2010, specialising in Digital Architecture for his master's also in Venice in 2010. He joined ASA studio albanese in 2015 and he deals with 3D design and models, prototyping, rendering, and post-production of images and videos. Before arriving in Vicenza, he worked in Maastricht at SatijnPlus Architecten, in Milan for Cino Zucchi Architetti and in Rome for Fuksas Architecture. When he's not designing, Filippo is a musician and composer for the band A New Silent Corporation, with whom he has recorded two albums of post-rock instrumental music (Everything Is Exactly As It Seems, 2009; Odyssea, 2016). He plays electric guitar (for which he has a collection of pedals that he doesn't know how to use) and piano. He loves dogs and hates people who talk on trains, which perhaps explains why he would like to have been an astronaut.

Partners

Citterio Spa

Images credits

Studiolux Andrea Torbidoni Giovanni Ghiandoni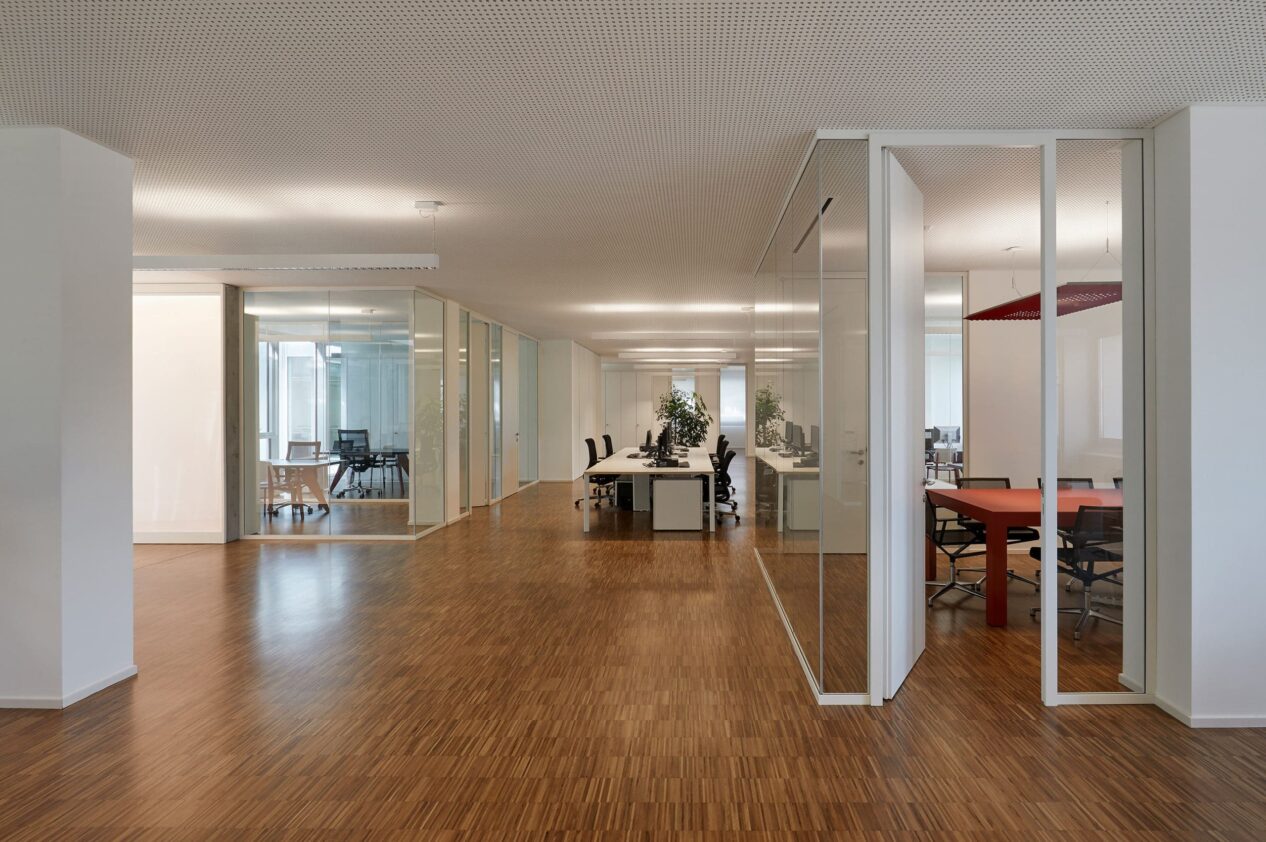 Facco is an industrial center established for over 60 years in the heart of a small community in the Paduan countryside. The headquarters, built in the 70s, has become over time a reassuring reference to the collective consciousness of this town. The project for the old / new headquarter has recovered the elements that was saved from the fire, such as the façade on the street front. The distribution of spaces and volumes has been reshaped and the workspaces have been reorganized with an essential interior design intervention. The most significant action is the longitudinal cut on the building, that generates a fault from which emerges a large greenhouse with lush trees and essences, which provides air, light and landscape at the heart of the headquarter.
The common areas have been distributed in order to avoid hierarchical separations between the departments and promote exchange, meeting and the possibility of generating new connections. The two new red cantiliver roofs on the entrance work not only as protective structures but as real collective spaces under which events and convivial moments are grouped together. The bright color and the contemporary forms immediately declare the posteriority of these new elements with respect to the original body.