The Collector House is a fluid organism, part home, part office, part art gallery.
 From the very start the idea of living among artwork was the defining concept behind the project: the retrofitting of an early 20th century building that had been overhauled in the postwar period and that was destined to become a contemporary home for art and humans.

Client

Private

Year

2010

Status

Completed

Size

1300 sqm

Team

project

Flavio Albanese

—

Flavio Albanese
founder & partner

Flavio Albanese (1951), is founder and president of ASA studio albanese. He is a self-educated designer, by combining his passion for contemporary art with the practical experience of an artisan-architect. Having come into contact with Carlo Scarpa, he learns from him to avoid an "a priori" approach to design, adapting on a case-by-case basis to the occasions, themes and contexts. He has held courses at the École Polytechinique Fédérale in Lausanne and at the Art Institute in Chicago (1980), at Yale University (1983), at the University of Architecture in Delft (2005), at the University of Florida (2006), at the Fundacion Proa de Buenos Aires (2008) and frequently at the most important Italian universities. He has also held two workshops at the international summer school of the Architecture School in Venice in 2009 and 2010. He was a member of the Confindustria Vicenza committee from 1998 to 2001, the Domus Academy Scientific Committee (2004-2005) and the MIart Committee of Honour (2009 and 2010), director of the Officina del Porto di Palermo (2006-2008), vice president of the Andrea Palladio Architecture Firms International Centre (2011-2015) and president of the Fondazione Teatro Comunale Città di Vicenza (2010-2016). From 2007 to 2010 he was asked to head Domus, the prestigious international architecture, design and contemporary art magazine. Active since 1971, in 1987 he founds with his brother Franco ASA studio albanese. The studio's projects were published by the most most important architecture and design magazines: the Neores project was selected for the Mies van der Rohe Foundation European Union Prize for Contemporary Architecture (2003), and ASA studio albanese took part in Venice's Architecture Biennial in 2004 and 2006. Flavio is an avid reader and bibliophile (his library, which is open to the rest of the firm, contains more than 15.000 volumes) and he is a connoisseur and collector of contemporary art.

Franco Albanese

Franco Albanese
partner, CEO & executive director

Franco Albanese (Vicenza, 1958) has worked in the world of architecture and design since 1976. He graduated from the Architecture School in Venice in 1986 and the year after he founded ASA studio albanese in Vicenza with his brother Flavio. Since then he has been the firm's CEO and Technical Manager, and this role has led him to playing his part in the creation, development and execution of the most important projects. As designer and operations manager he oversaw: the Faculty of Veterinary Medicine at the University of Padua (1997); "Neores", the production site and headquarters of Sinv Spa in Schio, Vicenza, (selected for the Mies van der Rohe Foundation European Union Prize for Contemporary Architecture in 2003); the project for the Town Hall of the Municipality of Grumolo delle Abbadesse, Vicenza (1999); "Morimondo 17", the industrial reconversion of the Sinv spa premises in Milan (2000); the headquarters of Margraf in Chiampo, in the province of Vicenza (2006). He also supervised the "Rocco Forte Verdura Resort" in Sciacca, in Sicily (2005), the expansion of Pantelleria Airport (2006), the new Rinascente in Palermo (2007), the reconversion project of Lindower 22 in Berlin (2011), the Hybrid Tower project in Mestre-Venice (2012), the Fope headquarter extension project in Vicenza (2016). In recent years, he has increasingly concentrated on reconverting urban industrial areas, which has become a key theme of ASA studio albanese's philosophy. In recent years, he has increasingly concentrated on reconverting urban industrial areas, which has become a key theme of ASA studio albanese's philosophy.

project manager

Anna Tozzi

Anna Tozzi
project manager

Anna joined the firm in 1982 after graduating from art high school. She has made her own contribution to ASA studio albanese's growth and development, helping shape its distinctive style and sensibility. An interior designer with a particular flair for design and colour, Anna has always been interested in interiors, the spatial arrangement of items, and proper and elegant proportion between tones and volumes, working on projects from their concept to their design, coordination with suppliers and relations with clients. Today she is one of the pillars of ASA studio albanese, and the point of reference for the most important interior design choices. Over time her colour palette has concentrated on soft shades, and the colour she undoubtedly uses most is beige, in all its tones. Anna loves nature, animals, baggy, warm cardigans and monographs by Liagre, both for pleasure and necessity.

team

Lisa Bisarello

—

Lisa Bisarello
interior designer

Lisa joined Asa studio albanese in 2001 as personal assistant to Flavio Albanese, before becoming an interior designer and working on projects ranging from furniture design to patterns for fabrics, as well as on interior design projects. She received her High School Diploma in 1994 at the Canova Techical Institute for Surveyors in Vicenza, and before joining Asa studio albanese, she worked as an interior designer for a building firm from 1994 to 1996, and from 1998 to 2000 at the prestigious Fontana Arredamenti showroom as a sales assistant and interior designer. Personality-wise, Lisa is sensitive, meticulous, strong-willed and down-to-earth. She prefers still water, and her favourite proverb is "Where there's a will, there's a way".

Francesco Dal Toso —

Francesco Dal Toso
architect

Nicola Caputo

Nicola Caputo
architect

final and working stages of projects, coordinating operations on site for the professionals who physically create the project and working with clients on their choices to ensure that the firm's vision for the project is in keeping with the clients' wishes. For the firm Nicola has been involved in projects that include the Rocco Forte Verdura Resort in Sciacca, the Hybrid Tower in Mestre, the Villa Coeur Jolie in Cap d'Antibes, as well as many other projects. Before joining ASA studio albanese, he worked at Studio Altieri in Thiene, in the contract field in workplace interiors with Adotta, and again as designer with Studio Gabbiani & associati, tackling projects of different sizes, including hospitals, shopping malls, infrastructure and restoration work. He lives in Vicenza with his wife and son. He's a keen pre-master swimmer and when he isn't diving into the firm's design projects, he's diving into swimming pools. One of his favourite books is "The Art of War" by Sun Tzu. One thing he couldn't live without is a pair of well-crafted shoes.

Images credits

Andrea Garzotto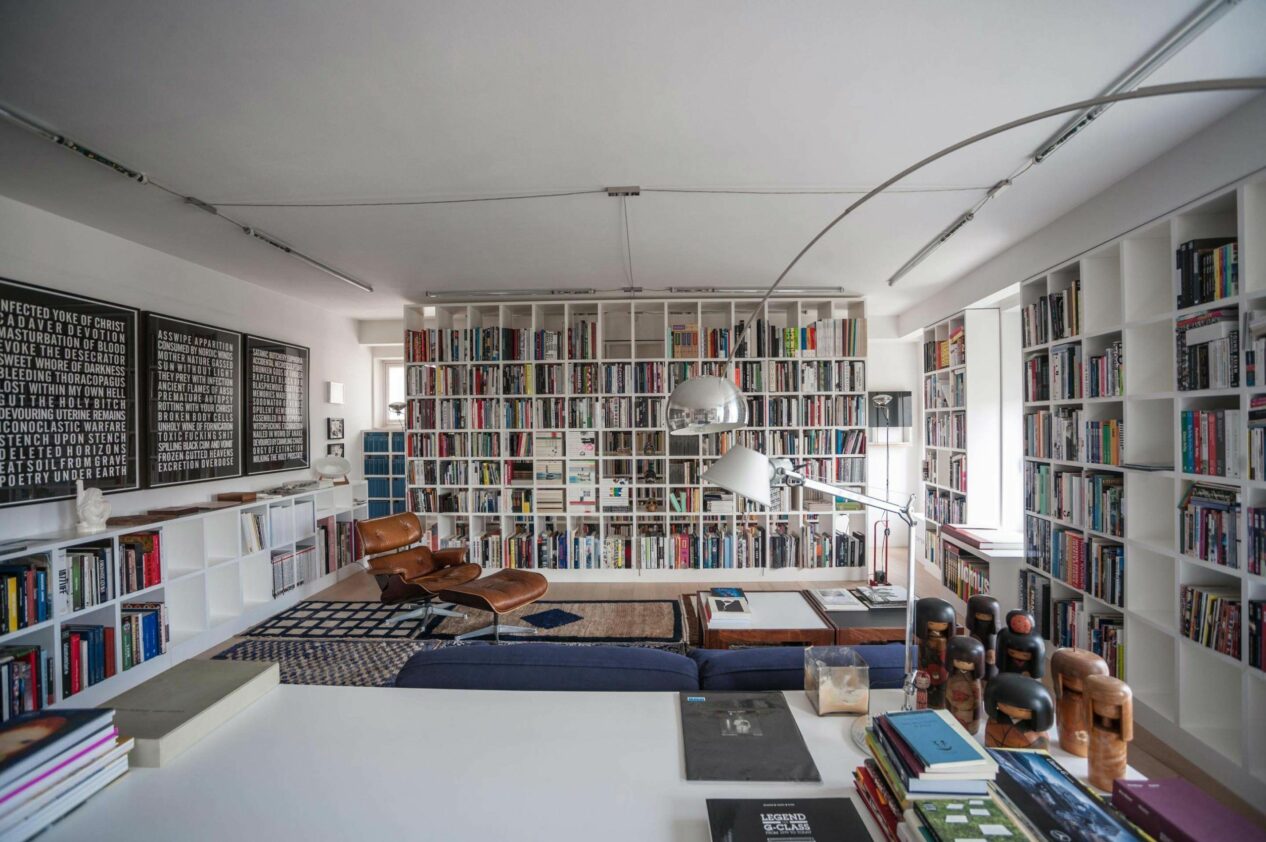 The Collector House is a perfect example of hybrid spaces in terms of both their functions and their architectural alterations. These characteristics mean it falls into the category of ASA studio albanese's rapid regeneration strategies, through which it handles the reuse and reconversion of existing buildings.
The ground floor houses a linear gallery, the spa, the gym, and the greenhouse/pavilion in the garden. One of the highlights is the reconversion of the old oven in the hobby room. The living area, with its kind of Wunderkammer (cabinet of curiosities), is on the first floor, where carefully controlled chaos meets a never-ending series of modern design pieces, contemporary works of art, sofa armchairs, a large square table, and an industrial kitchen that looks out over the spacious, functional terrace. On the floor above are the spartan, minimalist bedrooms, and the studio overflowing with volumes of books. 
Adjoining the Collector House is the Casetta Bianca (little white house): a smaller three-storey building that had been partially abandoned, which has been restored simply and repainted in total white as a venue to host temporary exhibitions and events.