Agrologic is the new center for the transformation and distribution of agricultural food products, which will be built in the Monselice area.
Designed to become the largest food manufacturing, warehousing and sorting center in Southern Europe, Agrologic lays horizontally across the countryside, matching with the horizontal dimension of the landscape.
Client

Private

Year

2016

Status

In progress

Size

132.381 sqm

Team

project

Flavio Albanese

—

Flavio Albanese
founder & partner

Flavio Albanese (1951), is founder and president of ASA studio albanese. He is a self-educated designer, by combining his passion for contemporary art with the practical experience of an artisan-architect. Having come into contact with Carlo Scarpa, he learns from him to avoid an "a priori" approach to design, adapting on a case-by-case basis to the occasions, themes and contexts. He has held courses at the École Polytechinique Fédérale in Lausanne and at the Art Institute in Chicago (1980), at Yale University (1983), at the University of Architecture in Delft (2005), at the University of Florida (2006), at the Fundacion Proa de Buenos Aires (2008) and frequently at the most important Italian universities. He has also held two workshops at the international summer school of the Architecture School in Venice in 2009 and 2010. He was a member of the Confindustria Vicenza committee from 1998 to 2001, the Domus Academy Scientific Committee (2004-2005) and the MIart Committee of Honour (2009 and 2010), director of the Officina del Porto di Palermo (2006-2008), vice president of the Andrea Palladio Architecture Firms International Centre (2011-2015) and president of the Fondazione Teatro Comunale Città di Vicenza (2010-2016). From 2007 to 2010 he was asked to head Domus, the prestigious international architecture, design and contemporary art magazine. Active since 1971, in 1987 he founds with his brother Franco ASA studio albanese. The studio's projects were published by the most most important architecture and design magazines: the Neores project was selected for the Mies van der Rohe Foundation European Union Prize for Contemporary Architecture (2003), and ASA studio albanese took part in Venice's Architecture Biennial in 2004 and 2006. Flavio is an avid reader and bibliophile (his library, which is open to the rest of the firm, contains more than 15.000 volumes) and he is a connoisseur and collector of contemporary art.

Franco Albanese

—

Franco Albanese
partner, CEO & executive director

Franco Albanese (Vicenza, 1958) has worked in the world of architecture and design since 1976. He graduated from the Architecture School in Venice in 1986 and the year after he founded ASA studio albanese in Vicenza with his brother Flavio. Since then he has been the firm's CEO and Technical Manager, and this role has led him to playing his part in the creation, development and execution of the most important projects. As designer and operations manager he oversaw: the Faculty of Veterinary Medicine at the University of Padua (1997); "Neores", the production site and headquarters of Sinv Spa in Schio, Vicenza, (selected for the Mies van der Rohe Foundation European Union Prize for Contemporary Architecture in 2003); the project for the Town Hall of the Municipality of Grumolo delle Abbadesse, Vicenza (1999); "Morimondo 17", the industrial reconversion of the Sinv spa premises in Milan (2000); the headquarters of Margraf in Chiampo, in the province of Vicenza (2006). He also supervised the "Rocco Forte Verdura Resort" in Sciacca, in Sicily (2005), the expansion of Pantelleria Airport (2006), the new Rinascente in Palermo (2007), the reconversion project of Lindower 22 in Berlin (2011), the Hybrid Tower project in Mestre-Venice (2012), the Fope headquarter extension project in Vicenza (2016). In recent years, he has increasingly concentrated on reconverting urban industrial areas, which has become a key theme of ASA studio albanese's philosophy. In recent years, he has increasingly concentrated on reconverting urban industrial areas, which has become a key theme of ASA studio albanese's philosophy.

Piero Corradin

Piero Corradin
partner, head of projects

Piero Corradin has been a partner of the firm since 2020 and head of project since 2014. He graduated from the Iuav Architecture School in Venice in 2002 and in the same year began working as an architect in ASA studio albanese. Some of the most important projects Piero has worked on include the urban redevelopment of a quarter in Beijing to an OMA masterplan (2007), the new branch of Banca Popolare in Marostica (2006), the new headquarters of AFV Acciaierie Beltrame in Vicenza (2007), the bid for the new Exhibition Centre in Vicenza (2008), and the international bid "Recupero della cava di Mursia" on the island of Pantelleria (2010). In 2012 he took part in the Hybrid Tower project in Mestre (Venice), in 2016 in the Fope headquarter extension project (Vicenza) and in the Agrologic agro-food hub in Monselice. In 2008 he was tutor for PreVisioni, the international workshop on the future masterplan for Vicenza and at the 2009-2010 summer workshops of the Iuav Architecture School in Venice.

project manager

Simone Matteazzi

Simone Matteazzi
project manager

Since 2008, the year he joined ASA studio albanese, Simone has followed projects throughout their creation, from feasibility studies to the final stage. He specialises in relations with public bodies and local government, particularly as regards urban and regional planning. Since 2011, he has been working on the complex Lindower 22 project in Berlin, for which he has supervised the retrofit phase and the new construction work. Before joining ASA studio albanese, he worked for Archistudio in Vicenza (from 2001 to 2008) and as a member of the National City Planning Institute (2003-2008). He has also taught CAD at the Pier Giacomo Castiglioni Interior Architecture Institute from 2002 to 2012. He is currently Vice President of the Ordine degli Architetti Paesaggisti Pianificatori della Provincia di Vicenza and in this role he has been a member of national architecture tender commissions. His favourite word is frontier, and he prefers the beach to the mountains.

team

Marcello Fodale

—

Marcello Fodale
architect

Marcello is an architect and has worked with ASA studio albanese since 2016. He graduated from the Architecture School in Venice with Prof. Bernardo Secchi, with whom he started working in 1996. In 1997 he founded the Metrogramma firm in Milan with other colleagues, specialising in projects and research. His experience led to an invitation from Columbia University in New York to present his work. In 2004 he opened up his own business in Vicenza, dealing with interior design, boat design and small and large-scale architectural projects. In 2004 he won third prize in the Europan 7 competition for the Split area. Since 2003 he has been working with the Altieri firm in Thiene as an independent designer. At the same time Marcello has been heavily involved in university teaching. Since 2014 he has been working on the IUAV's MADI and MDE master's courses in the fields of 3D rendering and Arduino control programming. He also founded his own self-produced electronics brand, Handmade Electronics. He is fascinated by the hidden courtyards in Milan that shield you from the hustle and bustle of the city, in particular Corso Como 10. The book he has chosen from his library is Learning From Las Vegas by Bob Venturi.  

Alessandro Melotto

—

Alessandro Melotto
office manager

Alessandro joined ASA studio albanese in January 2016, and has been working in close contact with the management team, the administrative offices and the staff as a project manager and human resources manager. He has worked on many key projects, such as Agrologic in Monselice, the new purification plant in Vicenza and the Lido Resort & Spa in Venice. Before joining the firm, he worked at Studio Altieri Spa from 1997 to 2016. He started as a project manager, working on dozens of projects and managing operations for hospitals, schools and shopping centres all over Italy, then he moved on to becoming project director for the engineering services sector in Italy, and finally since 2014, he was project manager for Studio Altieri in Muscat, Oman. He studied Civil Engineering at the University of Padua, he lives in Cologna Veneta with his wife and three children, and he plays the tenor sax in a big band jazz ensemble.

Gad Peralta —

Filippo Zampese

Filippo Zampese
architect visualizer

Filippo was born in 1984 and became an architect when he graduated in Construction Architecture from the IUAV in 2010, specialising in Digital Architecture for his master's also in Venice in 2010. He joined ASA studio albanese in 2015 and he deals with 3D design and models, prototyping, rendering, and post-production of images and videos. Before arriving in Vicenza, he worked in Maastricht at SatijnPlus Architecten, in Milan for Cino Zucchi Architetti and in Rome for Fuksas Architecture. When he's not designing, Filippo is a musician and composer for the band A New Silent Corporation, with whom he has recorded two albums of post-rock instrumental music (Everything Is Exactly As It Seems, 2009; Odyssea, 2016). He plays electric guitar (for which he has a collection of pedals that he doesn't know how to use) and piano. He loves dogs and hates people who talk on trains, which perhaps explains why he would like to have been an astronaut.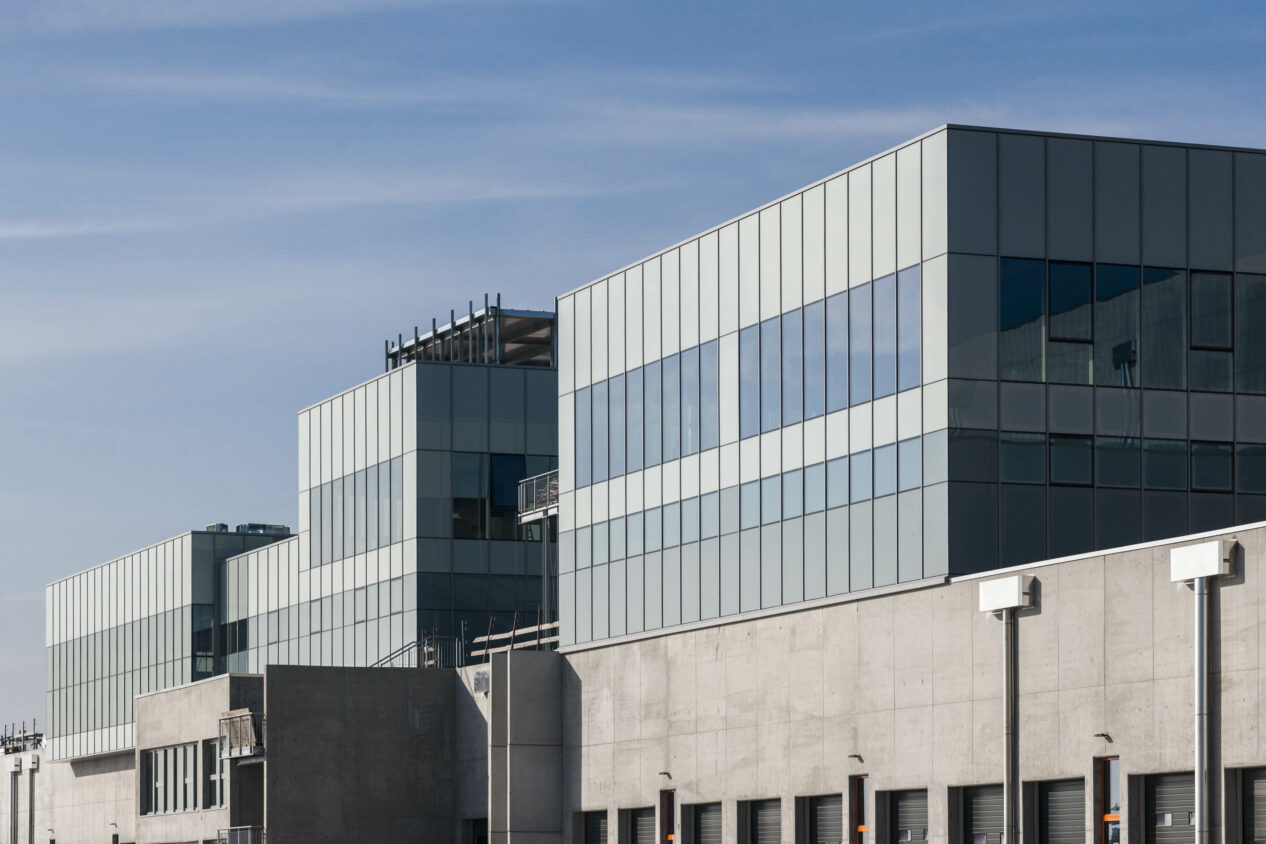 The project consists of two overlapping layers: the function layer (the most important in terms of surfaces) and the relationship layer.
The function layer is represented by the large warehousing plate, a silent and dull object to the outside, which protects and guards the products, reducing relations with the context to the essential. Above the large functional plate, in a privileged position to the landscape, the relationship layer is grafted and contains the offices, canteens, and the conference hall. Transparency, natural light, and greenery will be the dominant features of this layer, which is inserted on the plate in a viral way by connecting with it.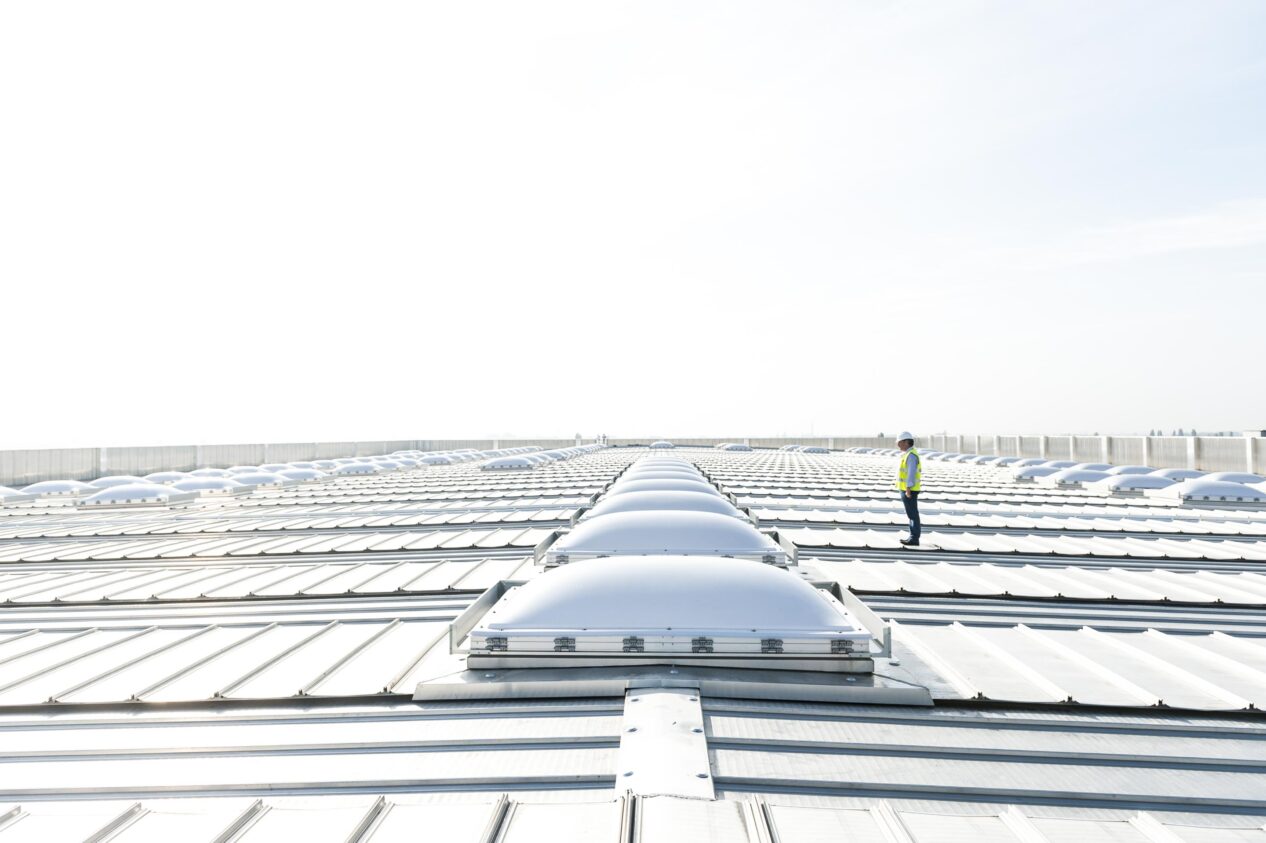 RENDERS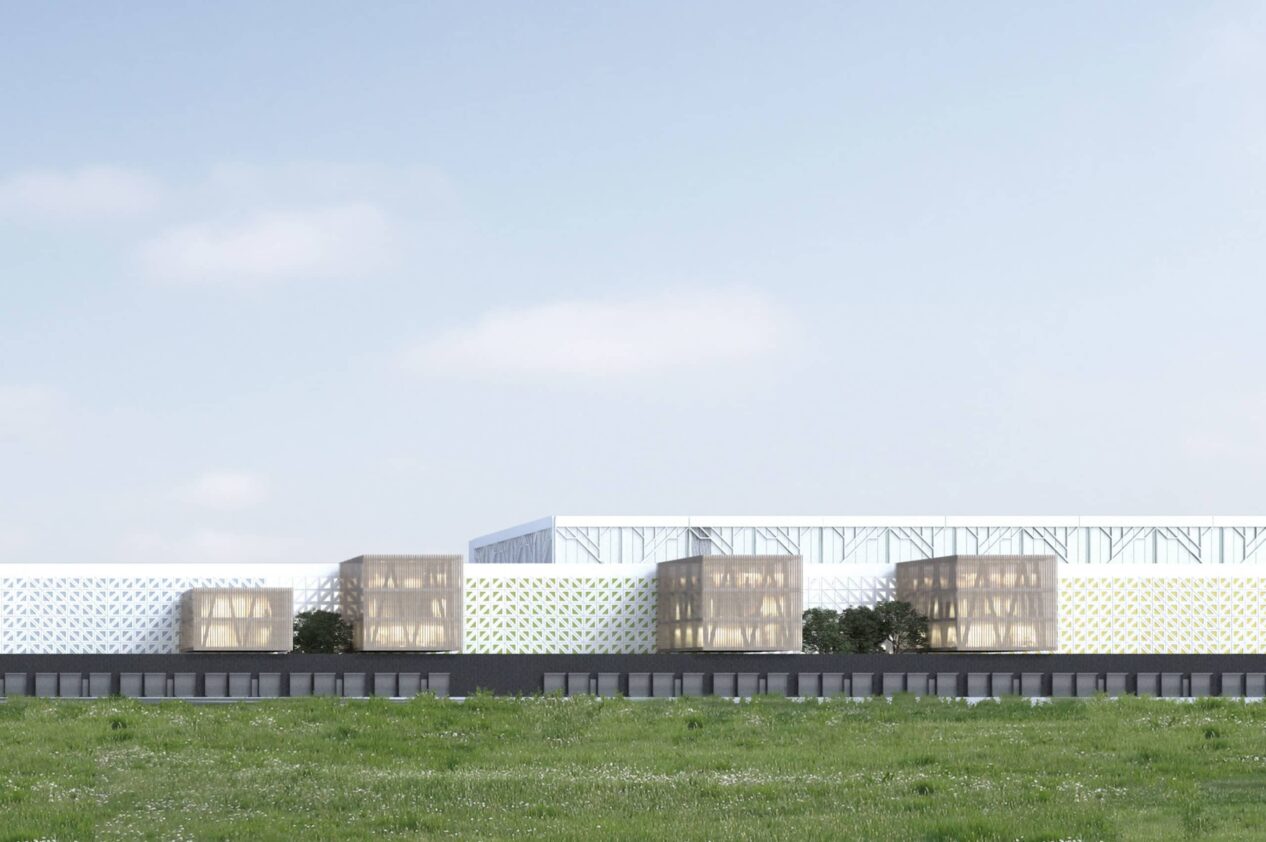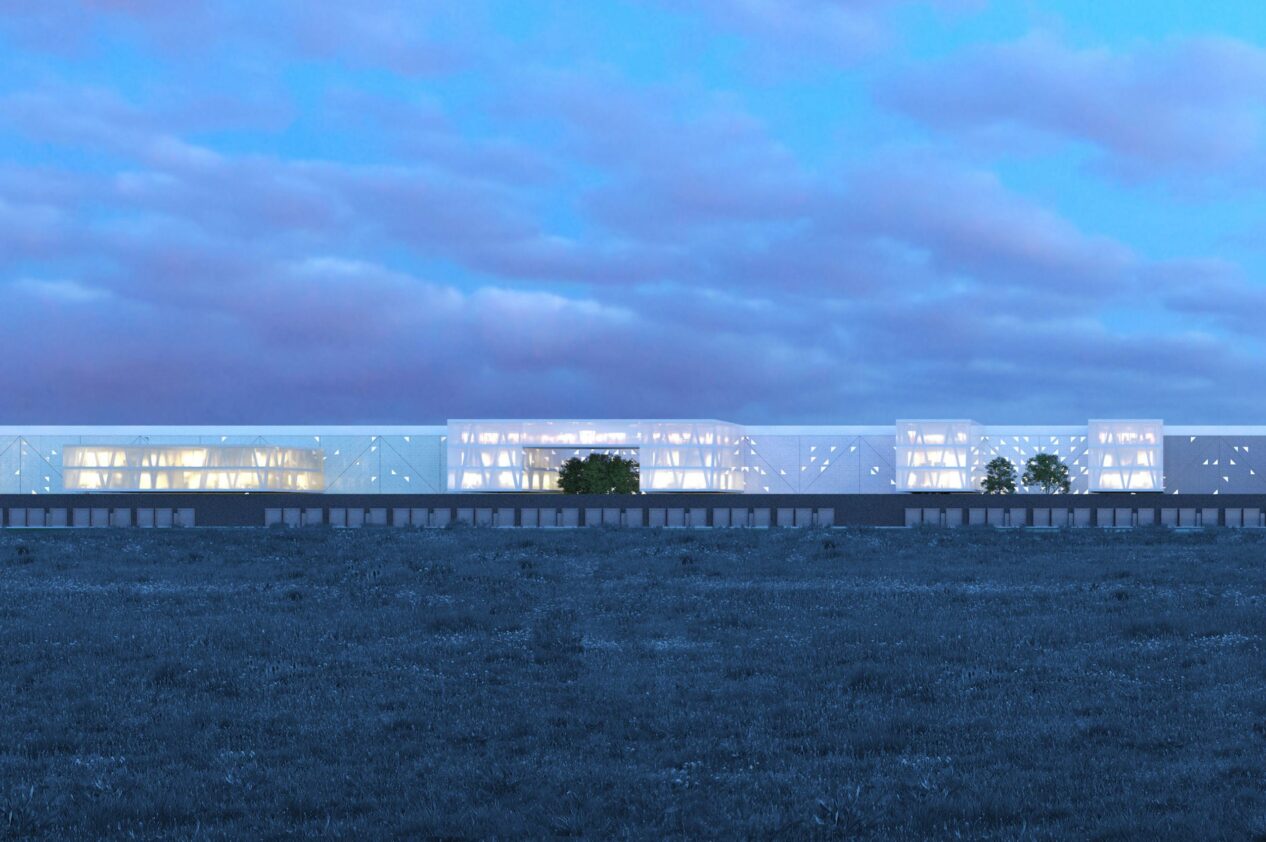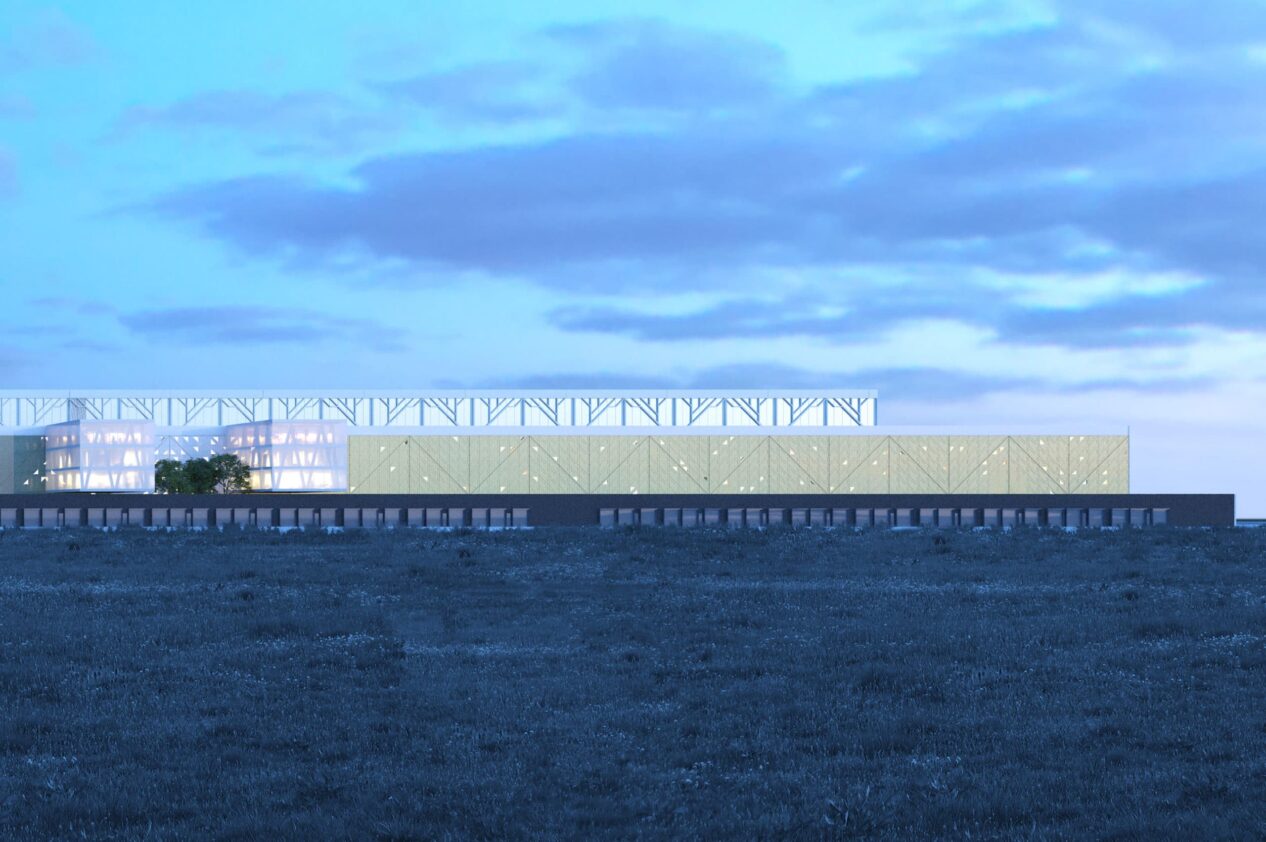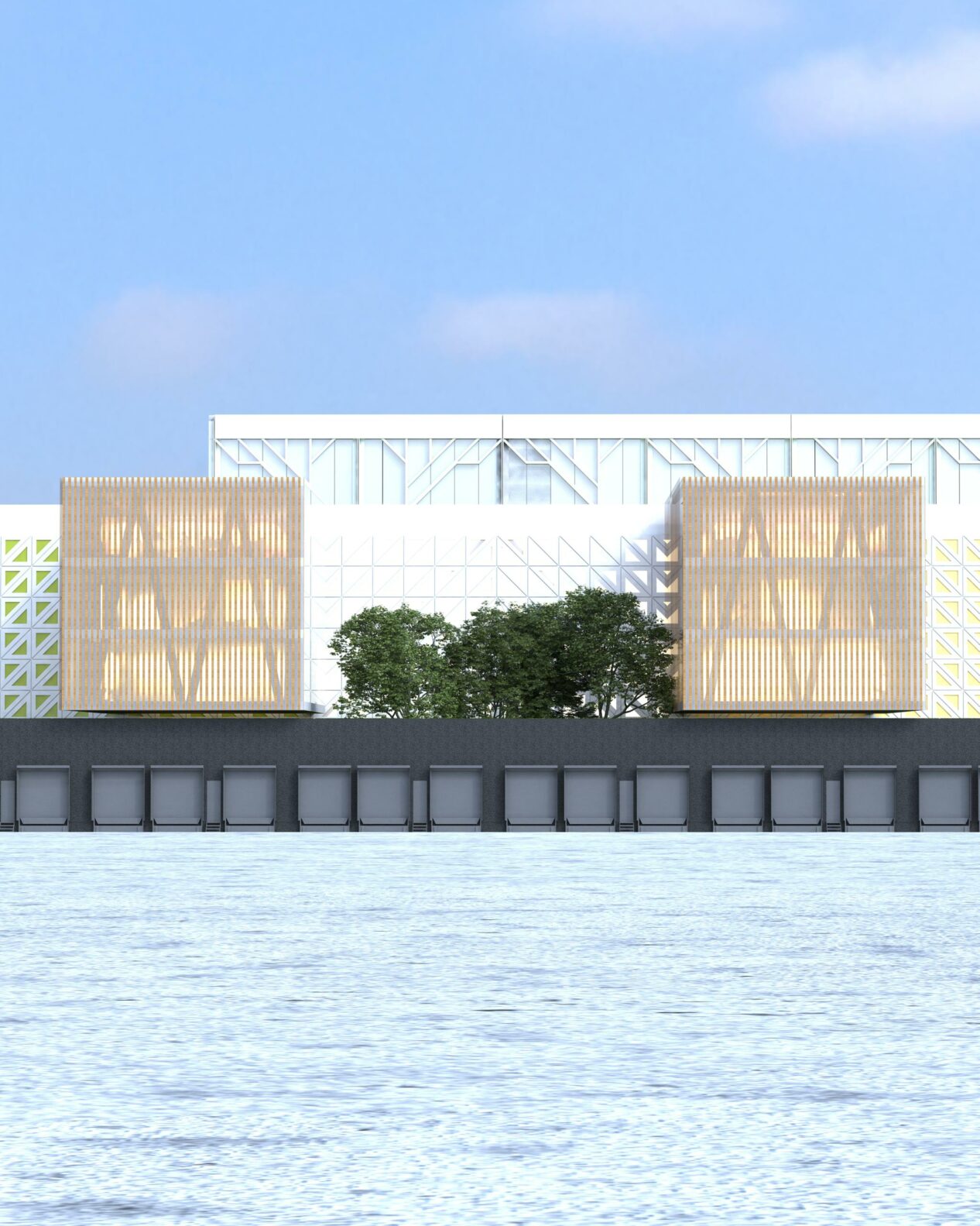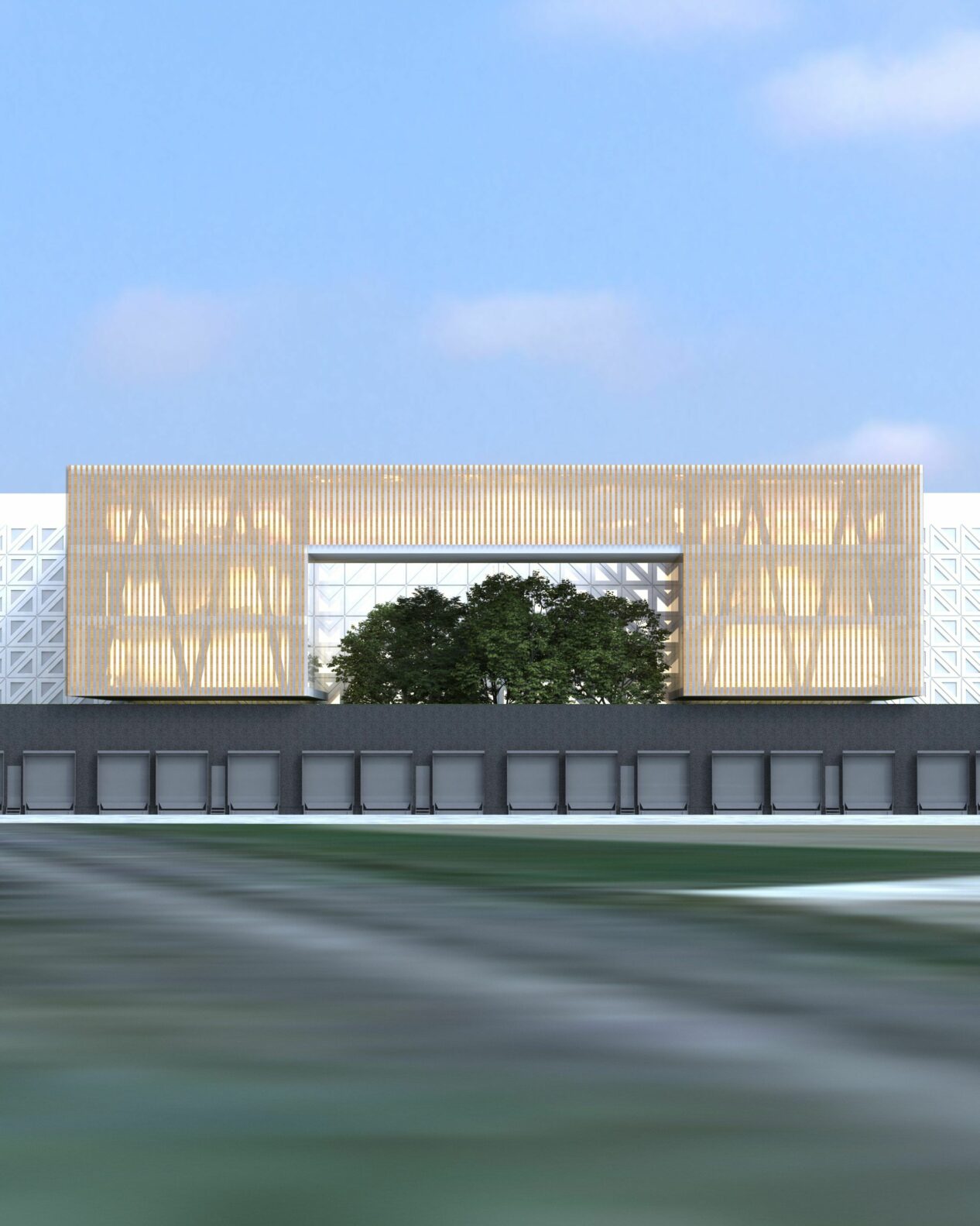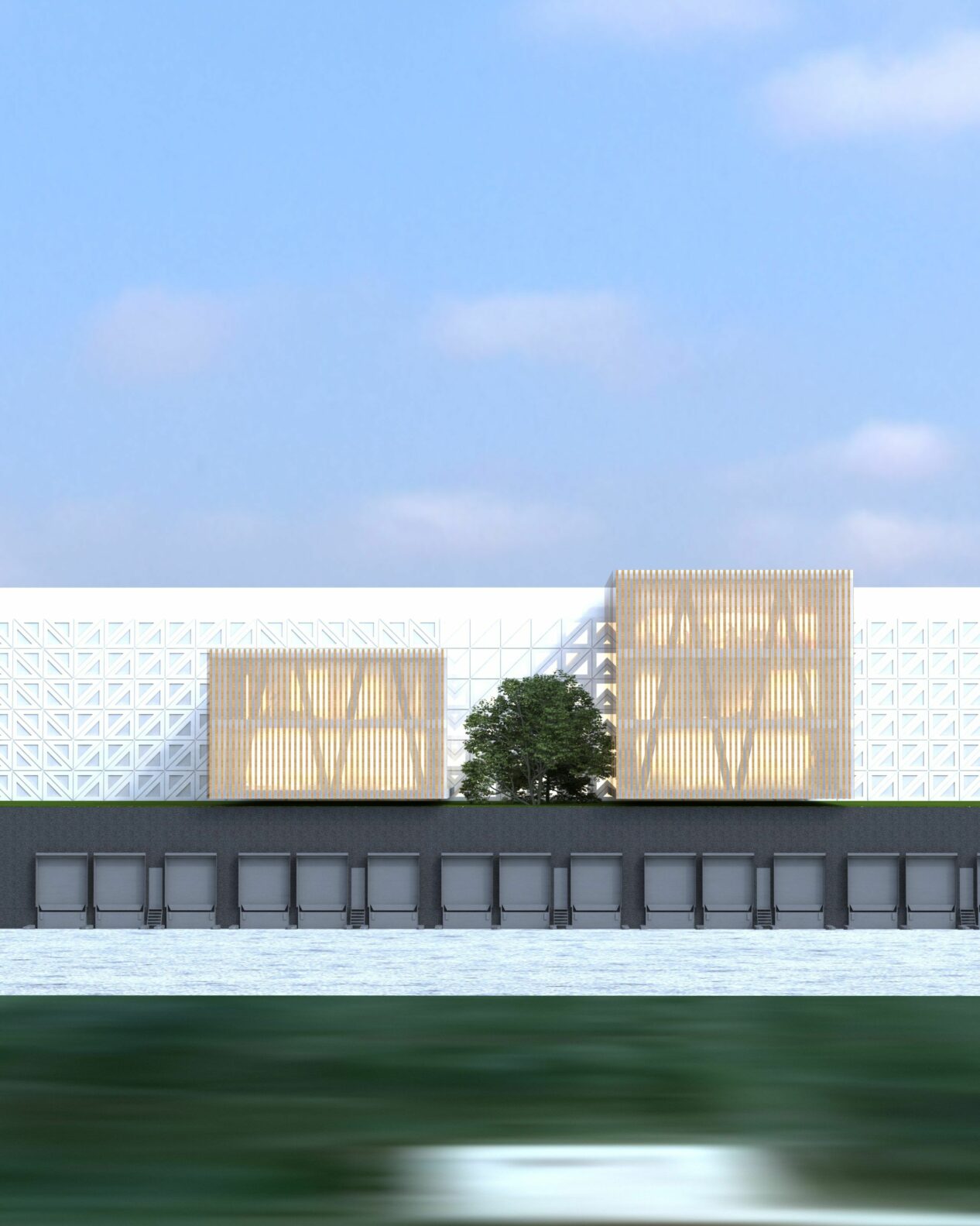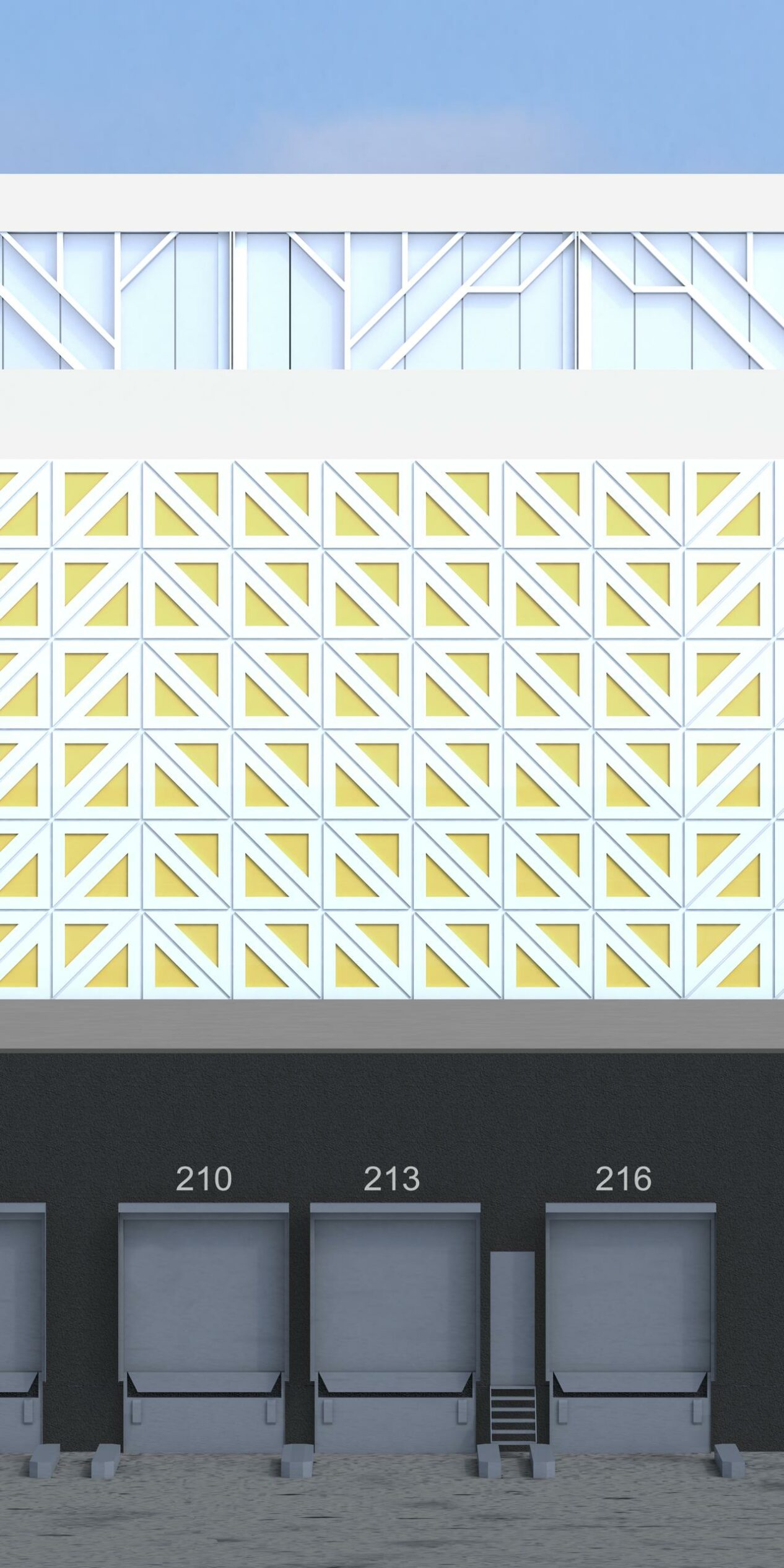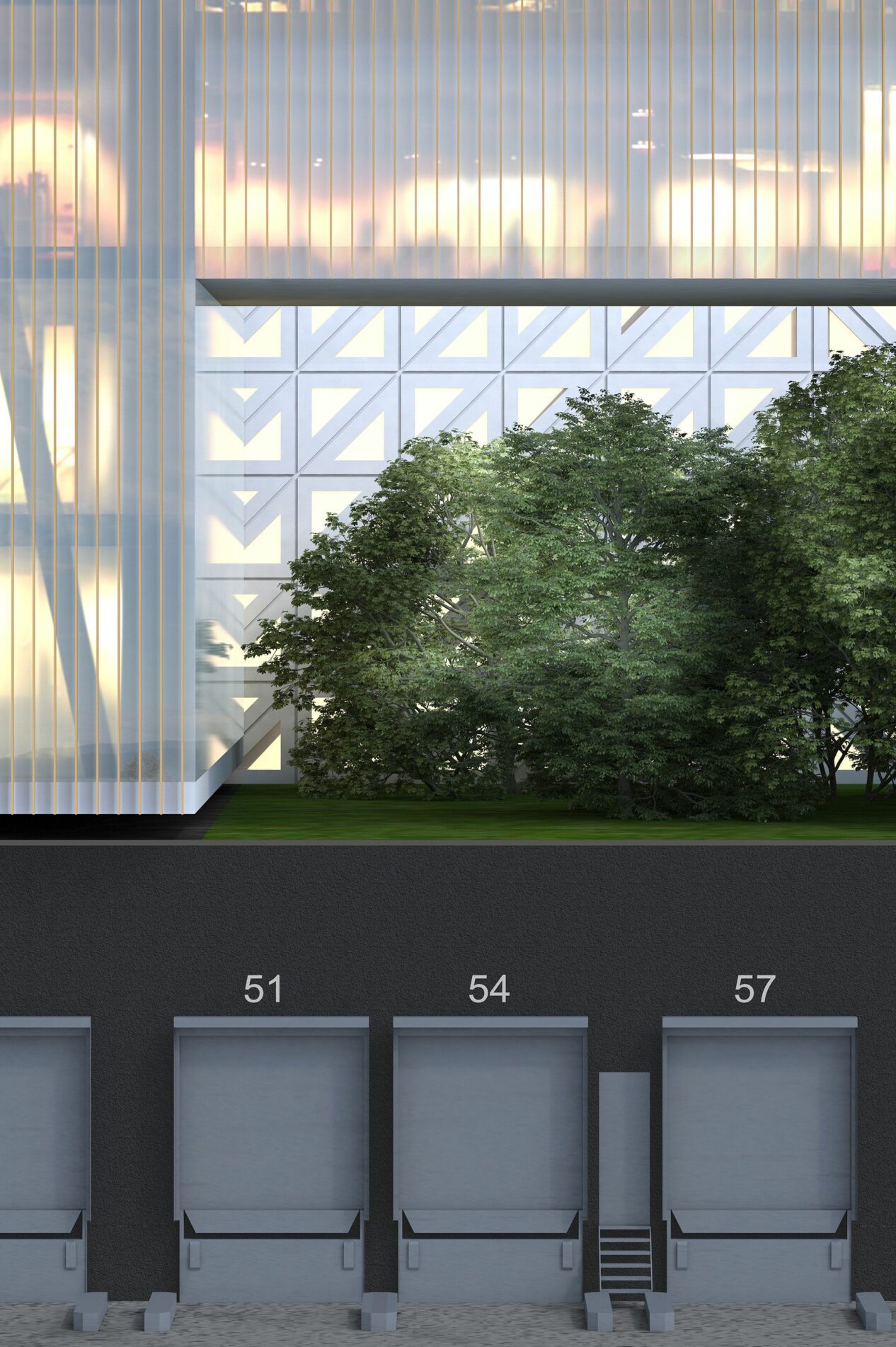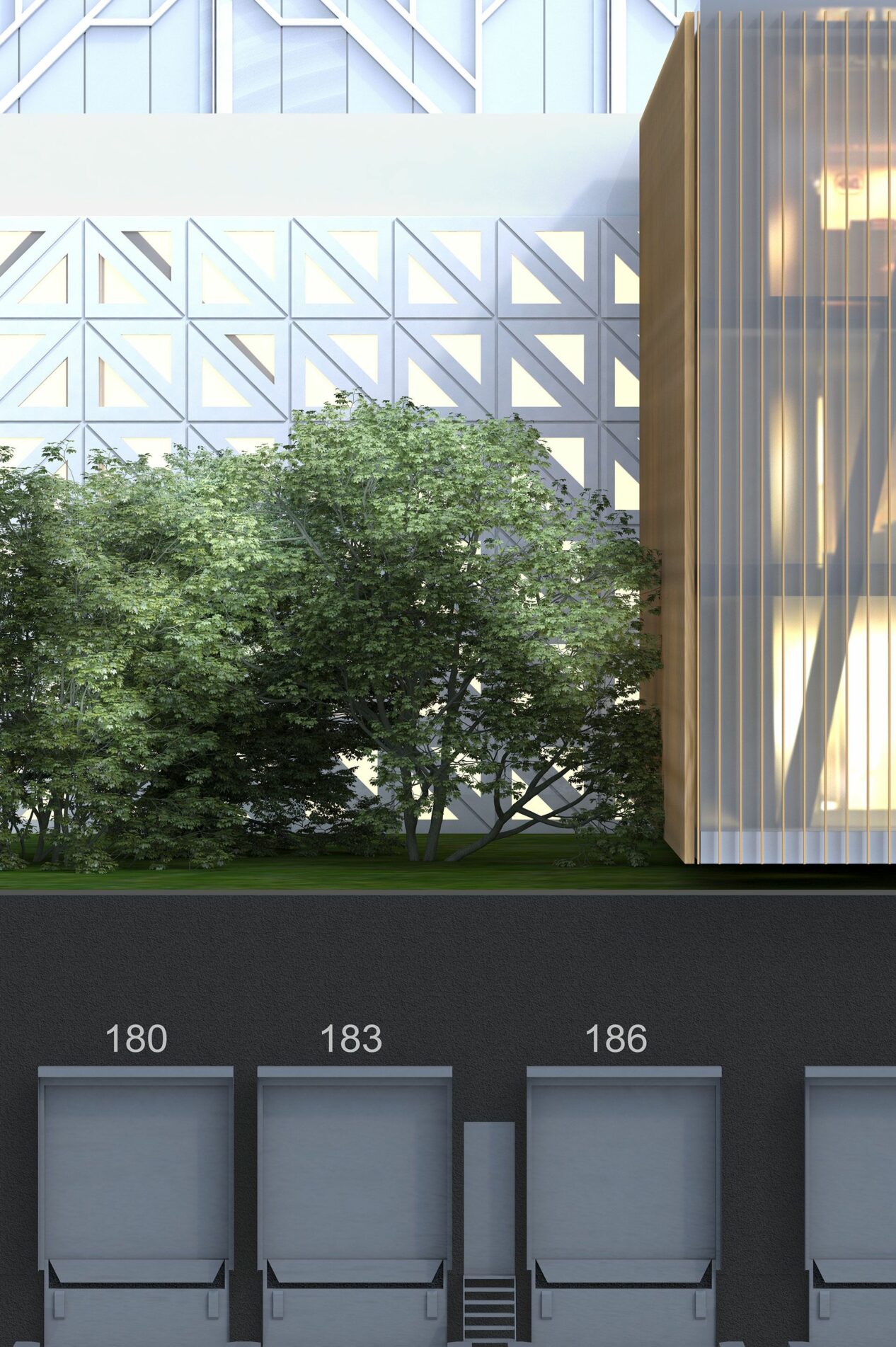 SKETCHES, PLANS, FLOWS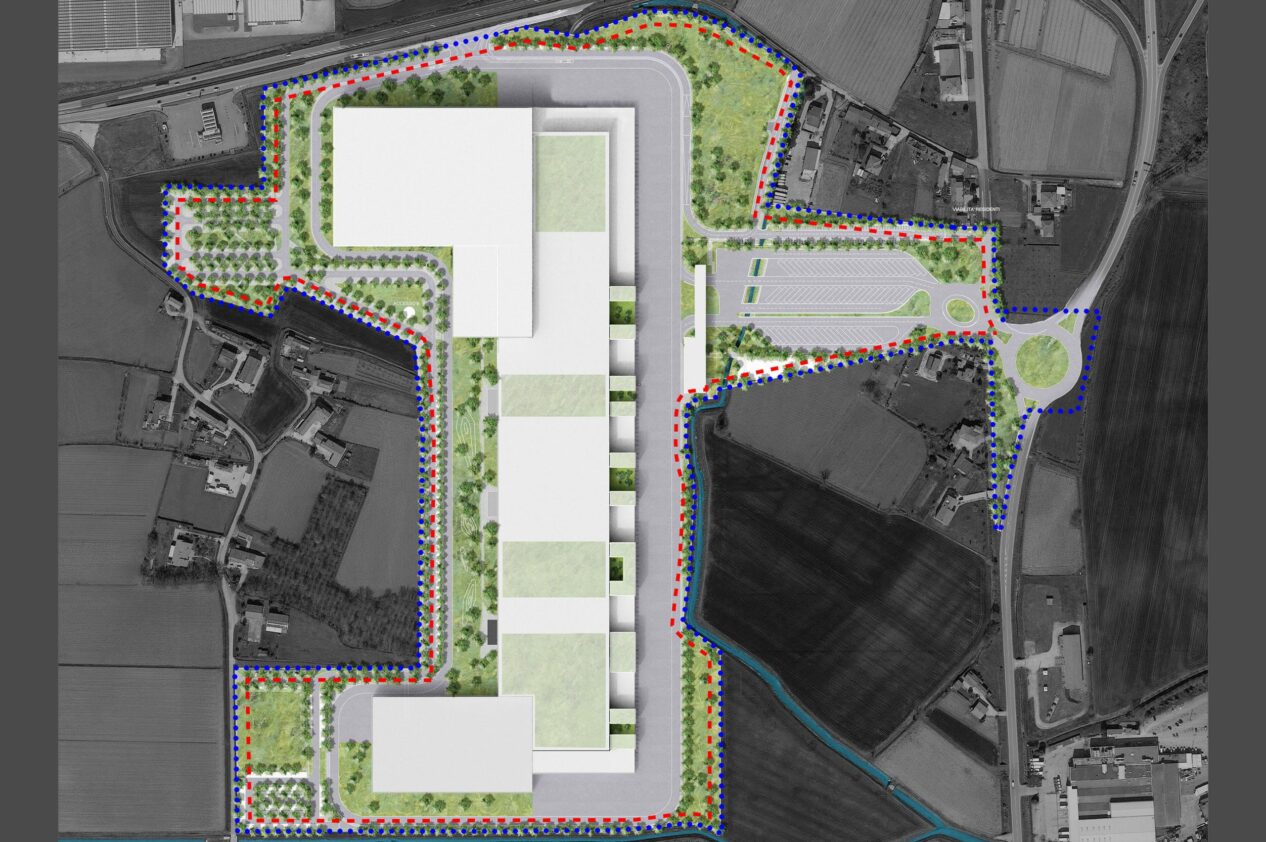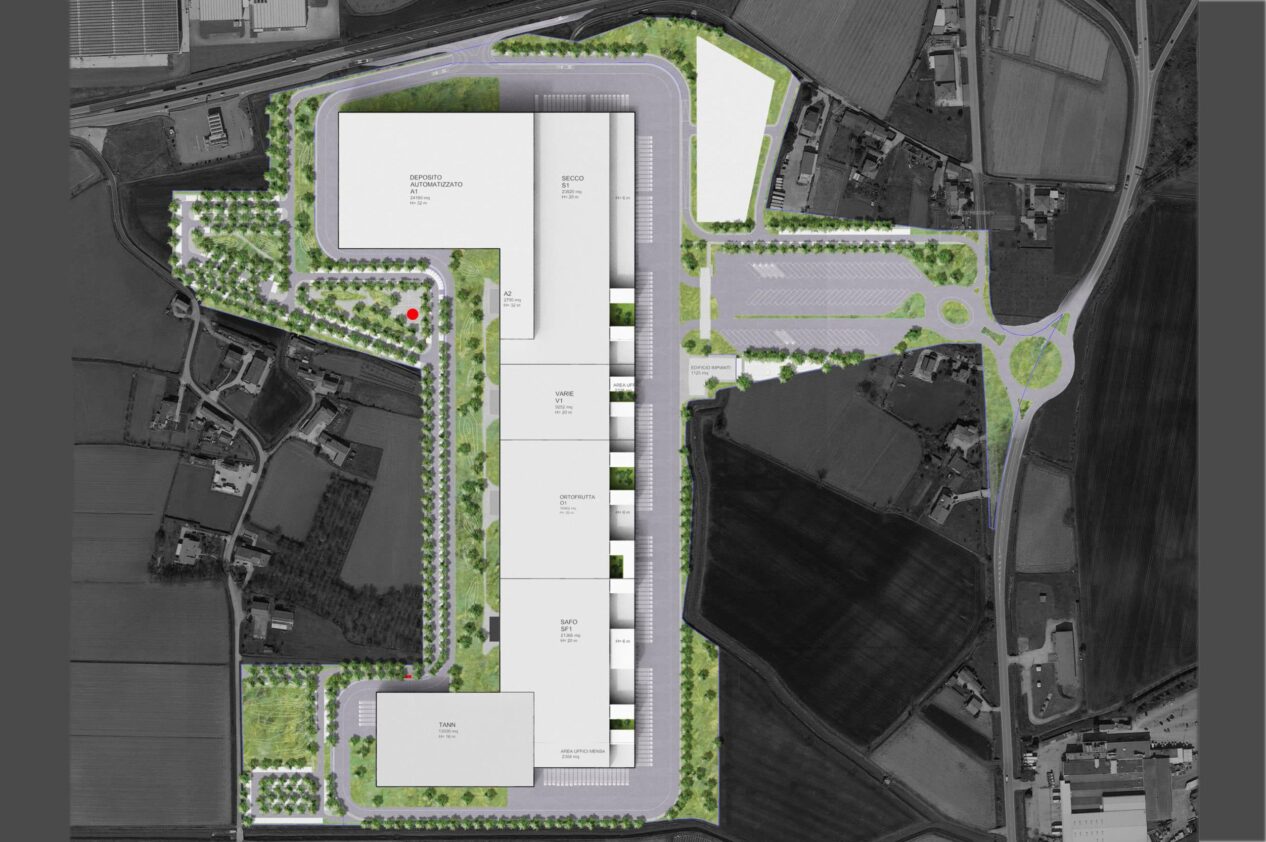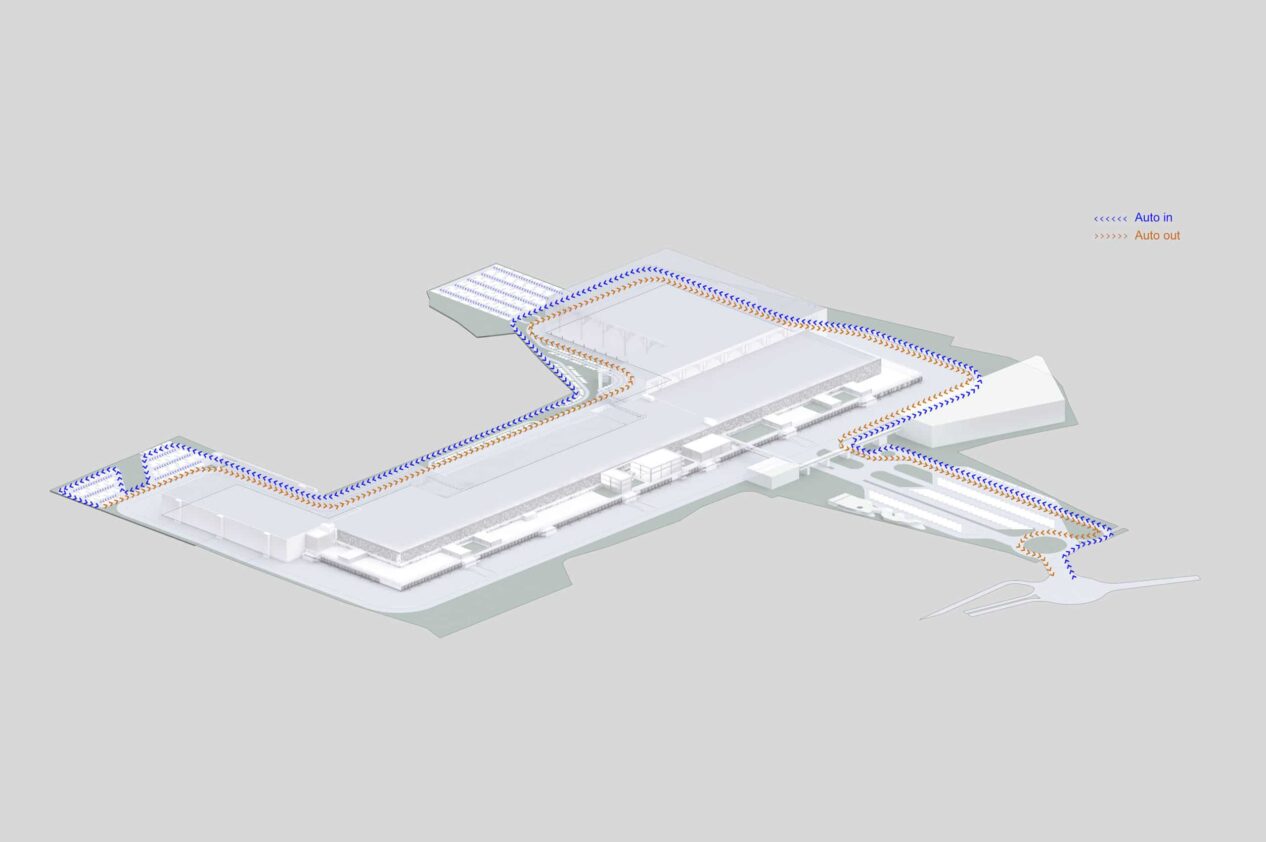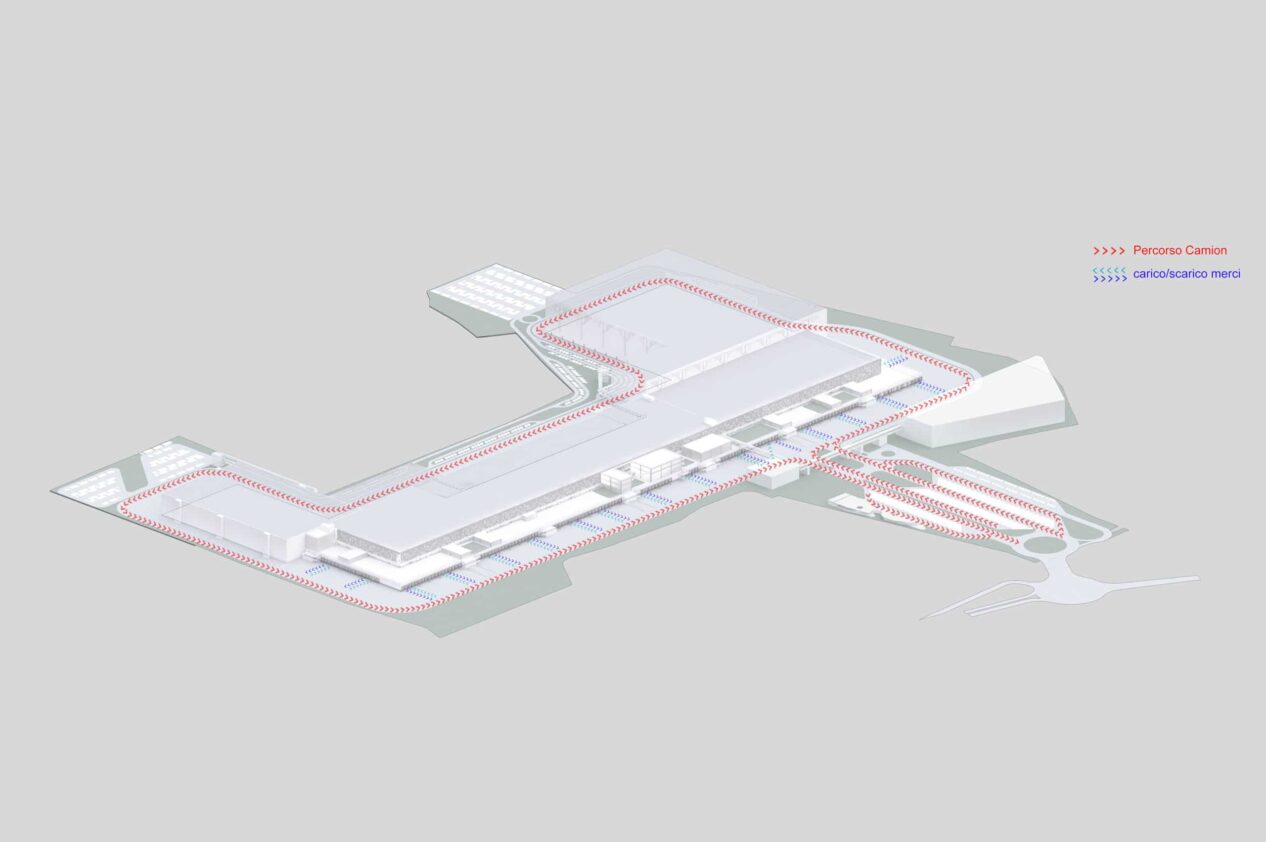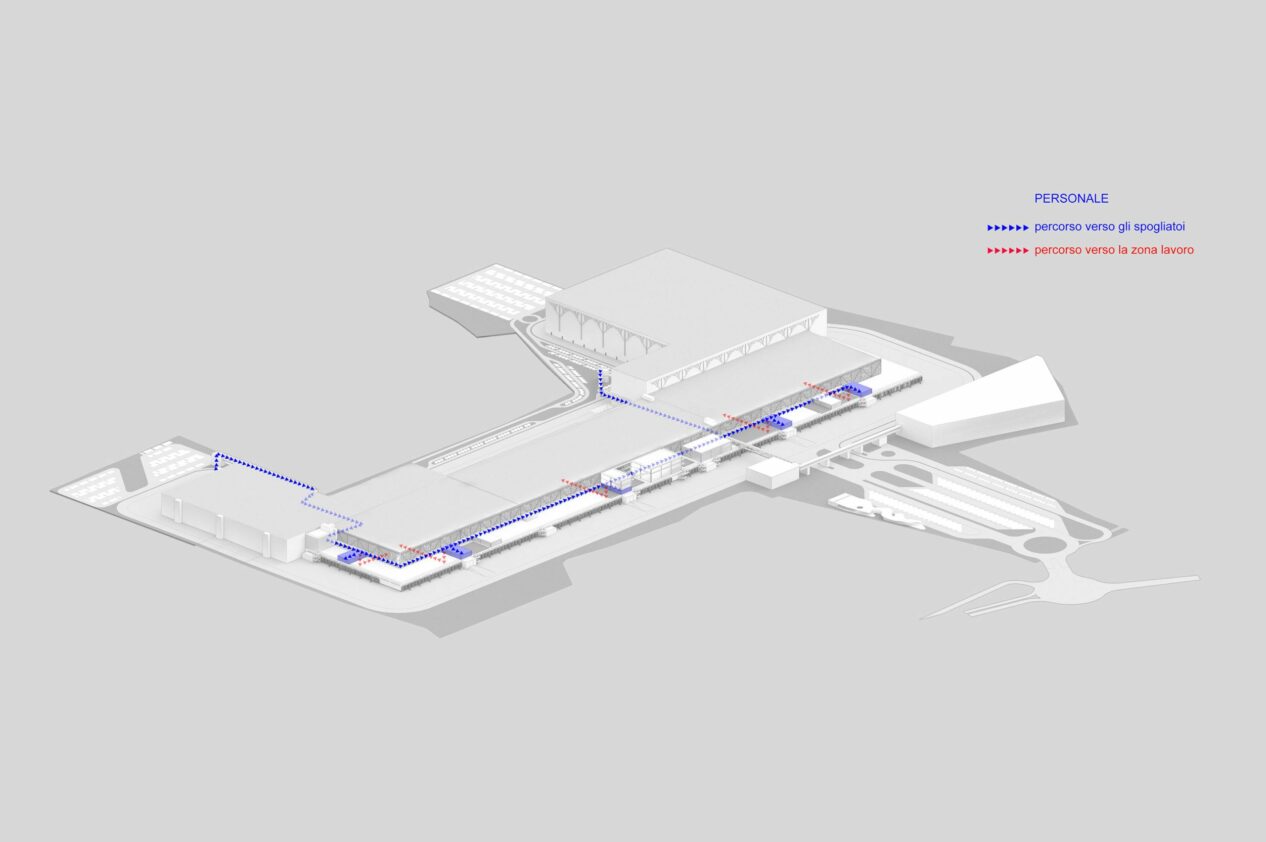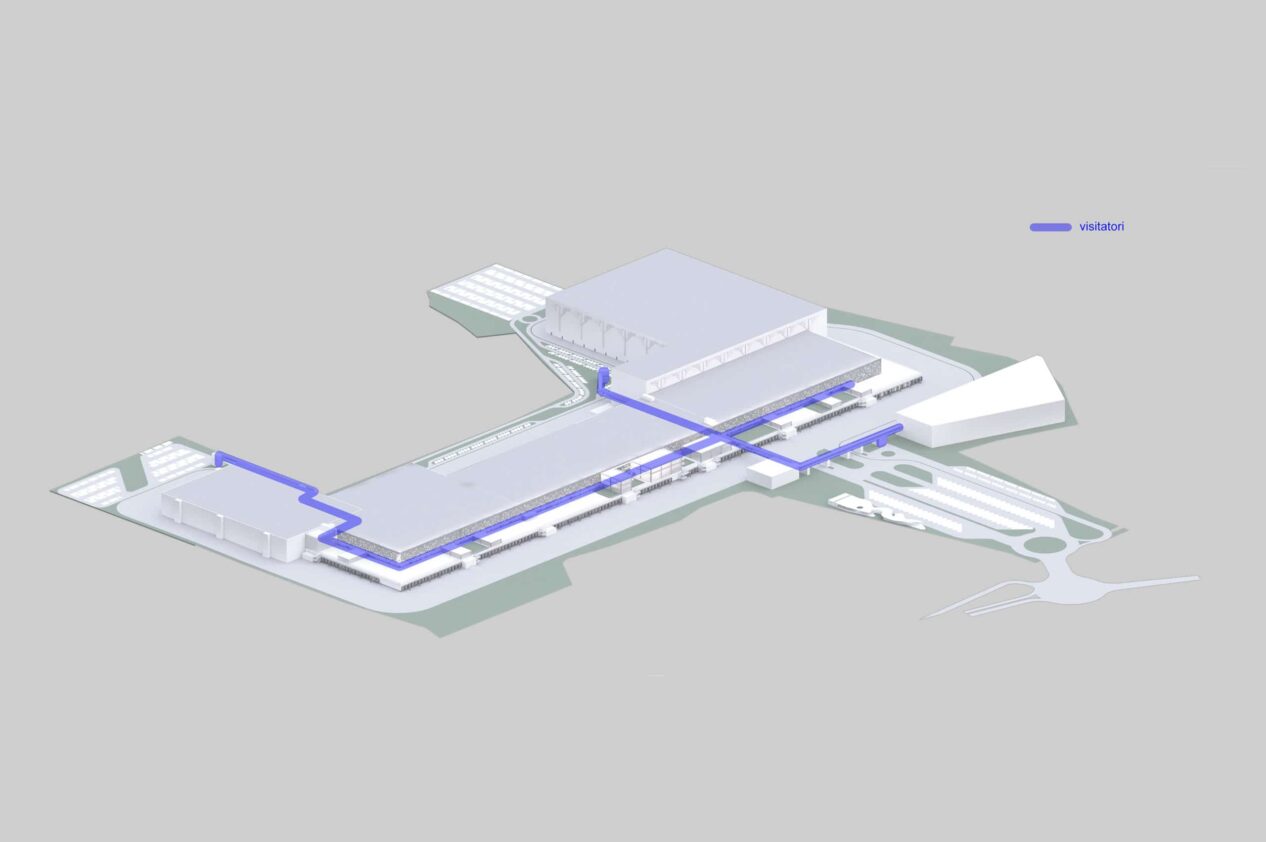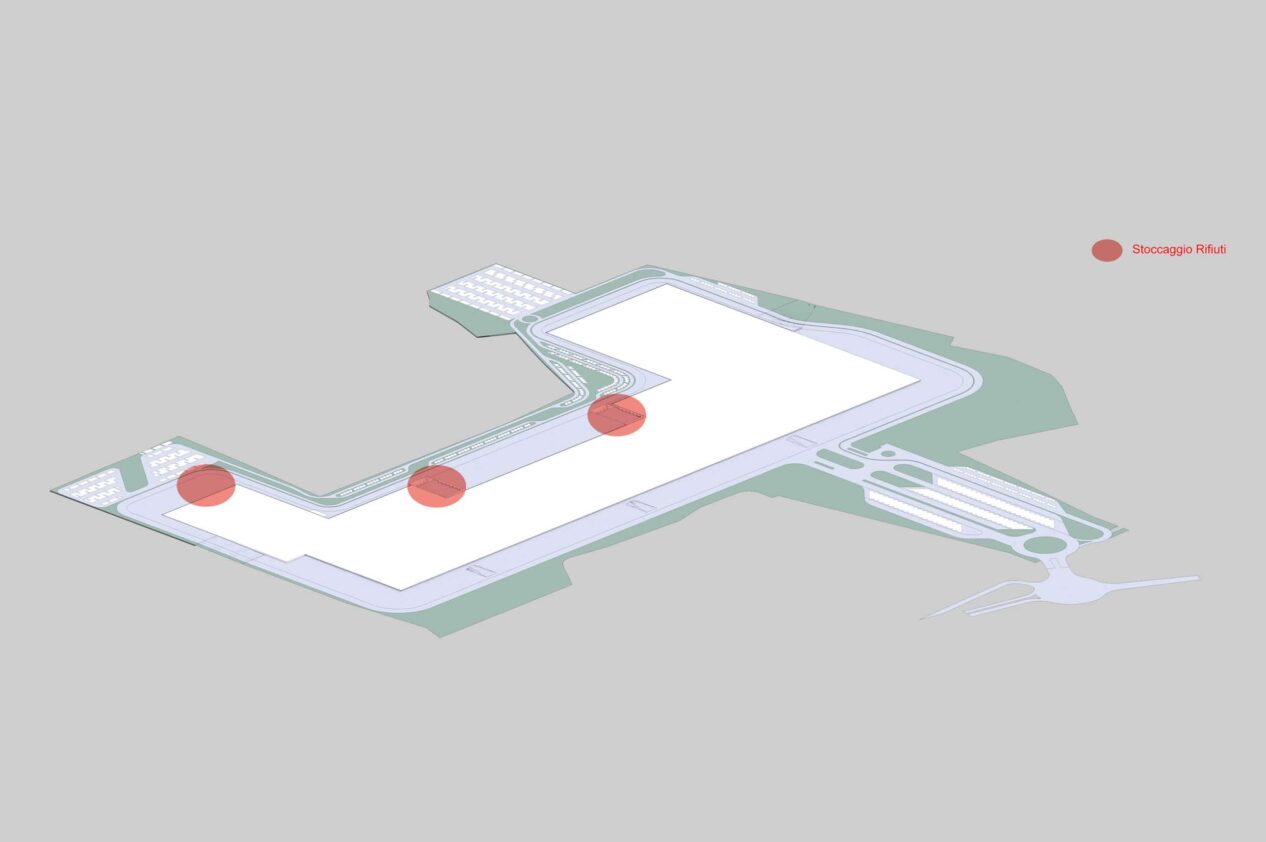 WORK IN PROGRESS FROM THE BUILDING SITE